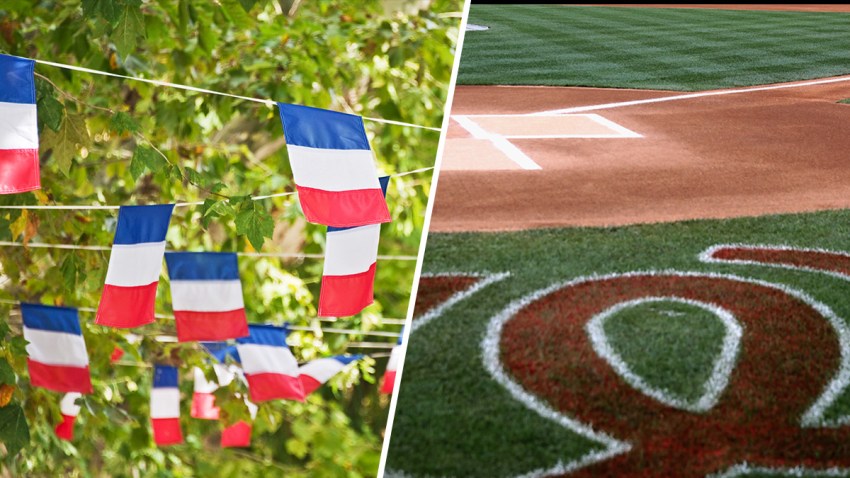 Whether you're hankering for some French-inspired celebrations or an all-American baseball day, this July weekend will deliver.
But first:
-- Feeling hungry? You definitely will feel the stomach rumbles after checking out the best ways to eat and drink your way through summer.
-- Outdoor movies are one of the best parts of a D.C. summer.
-- Have you checked out our guide to 100+ Things to Do in D.C. This Summer? Get ready to make this the #BestSummerEver.
Here are our top picks for your weekend:
Enjoy America's Pastime at MLB All-Star Week
You can find everything you need to know in our guide here. The big game isn't until Tuesday, but lots of fun will begin over the weekend:
Baseball Americana
Friday and Saturday, 8:30 a.m. to 4:30 p.m., Library of Congress
Go deep into baseball history at the Library of Congress' new exhibit, featuring some amazing artifacts including Babe Ruth's shoes and tons of retro photos.
Here are a few things we learned from the exhibit:
All-Star FanFest
Friday, July 13 to July 17, 9 a.m. to 8 p.m., Washington Convention Center
Hall of Fame legends and new favorites (including lots of Nats players!) are scheduled to to snap pictures with fans, sign autographs and even teach some clinics. Here's who to meet at FanFest, including Rollie Fingers, Ryan Zimmerman and Andre Dawson. You can get discounts if you buy tickets in packs.
The Color Run MLB All-Star 5K
Saturday, July 14, 8 a.m., Yards Park, near First and M Streets Southeast
Zip around a 5-mile loop that takes you on both sides of the Anacostia River among blasts of dye that turn the crowd technicolor.
MLB All-Star Reception presented by Women in Sports & Events
Saturday, 5 p.m. to 7 p.m., Gallery Place
Enjoy heavy hors d'oeuvres, a cash bar and networking opportunities at Crimson Whisky Bar. Tickets are $45 and come with one drink.
All Star Weekend Sunday Cookout at Lost & Found
Sunday, 12 p.m. to 5 p.m., Shaw
BBQ Bus Smokehouse and headed to Lost & Found to fuel an All-Star party with plenty of drinks and live music.
The Futures Game and Legends & Celebrity Softball Game
Sunday, July 15 at 4 p.m.
In a back-to-back series, you can watch Minor League players strut their stuff. Then, some famous faces will take the field. In 2017, baseball Hall-of-Famers like Jason Taylor and Ivan "Pudge" Rodriguez played alongside Olympians and celebrities including actor Michael Cudlitz, musician Jencarlos Canela and actor Jamie Foxx. Tickets are still available online and start at $60.
Celebrate Bastille Day
Bonjour! Celebrate the beginnings of the French Revolution with dance parties, festivals and more. Our whole guide is here.
Bastille Day DC 2018 – Celebrating Alsace
Friday, 7:30 p.m. to 11:30 p.m., Embassy of France
True red and blue Francophiles: Find your cocktail attire for a classy soiree. Enjoy two hours of an open bar, live music and taste delicious bites from restaurants including Convival, Lebanese Taverna, Dirty Habit, 2941 Restaurant. Tickets start at $115 (or $94 per person if you buy a four pack).
Annual Bastille Day Baguette Race
Friday, 2 p.m. to 5 p.m., PAUL Bakery Penn Quarter
If you're in the mood to win prizes, sign up a team of six and participate in the baguette relay race. Enjoy the music and the pastries as people race around the United States Navy Memorial. There will also be a DJ and an Instagram contest, organizers say.
Mimosas & Macarons with Pastry Chef Kelsey Burack
Saturday, 11 a.m. to 1 p.m., DBGB DC
Watch a professional macaron baking demonstration and then try your hand at piping your own special fillings. Every guest gets to take home a recipe book and a box of their handmade macarons. Tickets cost $45.
REV909: Daft Punk/French House tribute and Indie Dance classics
Saturday, 10:30 p.m. to late, U Street Music Hall
Transport yourself to France at this themed dance party complete with a visual show. Tickets start at $10.
For Your Friday
Let Me Break You Up: An Anti-Dating Game Show
Friday, 8:30 p.m. and 10:30 p.m., The Black Cat
Carly Ann Filbin promises to test actual couples to the limits... so stay tuned for post-show drama!
For Your Saturday
Make the Royal Wedding Cake
Saturday, 9 a.m., Arlington
Learn to make the lemon elderflower cake with buttercream and lemon curd that Prince Harry and Meghan Markle enjoyed at their wedding. Fees are based on residency. Register ahead of time.
River Clean Up at Theodore Island
Saturday, 9 a.m. to 12 p.m. Theodore Roosevelt Island
Get your hands dirty for a good cause and join volunteers cleaning up Theodore Roosevelt Island.
Wines of Greece and Moldova
Saturday July 14 1 p.m. to 4 p.m. Dupont Circle
Bask in the summer Mediterranean vibes and drink wine without having to travel. The Mediterranean Way is hosting a wine sampling from Greece and Moldova with full pours for $5 per glass.
For Your Sunday
Coconut Market
Sunday, 12 p.m. to 5 p.m. 1508 Okie St NE
Check out this pop up shop featuring African, Asian, Caribbean and Latin-American cultires. There will be music from around the world, food, drinks and, of course, shopping. You need a ticket to enter; they're $5.