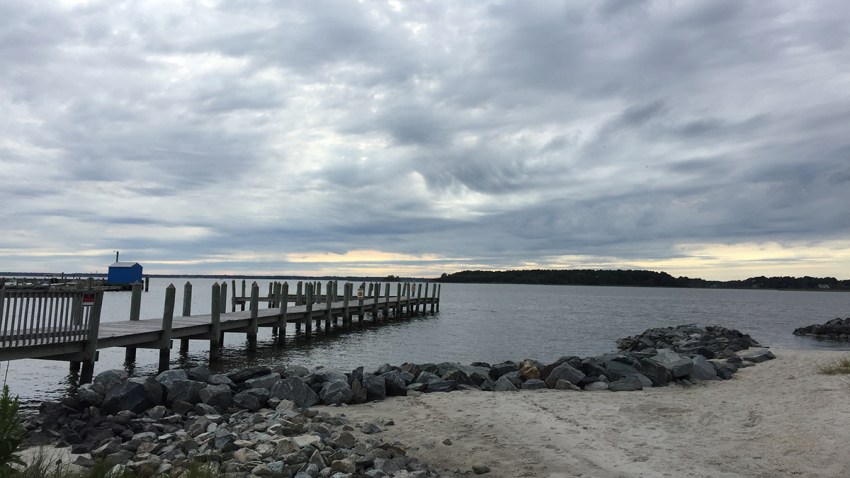 What do you do with a whole extra weekend day? We have so many ideas!
But first:
-- Nothing beats free. We've got you covered in Washington, D.C., Maryland and Northern Virginia.
-- Feeling hungry? You definitely will feel the stomach rumbles after checking out the best ways to eat and drink your way through summer.
-- Outdoor movies are one of the best parts of a D.C. summer.
-- Have you checked out our guide to 100+ Things to Do in D.C. This Summer? It's not too late to still make this the #BestSummerEver.
Here are our top picks for your weekend:
Free Pick
Anacostia Park Birthday Bash
Friday and Saturday, Anacostia Park Skating Pavilion
Anacostia Park is turning 100 years old, and the National Park Service is celebrating in style. On Friday, you can pitch in at watershed clean up events along Still Creek. The all-day party comes Saturday, beginning with a 9:30 a.m. yoga class. Stick around for boat tours, history talks, bike rides, fishing lessons and photo booths. The day ends with a disco skate party. The park service suggests bringing a picnic or buying food there.
Free Pick
Page-to-Stage New Play Festival
Saturday, 10 a.m. to 11:30 p.m., Sunday 6 p.m., Monday 10 a.m. to 10 p.m.
Catch one of 60 new plays and musicals in their early stages of development by dozens of local theatre companies. This year's theme is focusing on the human journey. It's free, but you may want to get there early to grab a seat. Doors open 30 minutes before each show. The full schedule is available on the Kennedy Center website.
Western Maryland Street Rod Roundup
Friday to Sunday to 8 p.m., Allegany County Fairgrounds, Cumberland, Maryland
Get Out of Town!
It's one of the best three-day weekends of the year. Here are our best picks for easy trips:
This mountain in Shenandoah is a challenge — but a rewarding one. Here's our guide of do's and don'ts to making the hike (Important: Bring water and show up early!)
Whether you're feeling like a trip to Kings Dominion, want to hike Great Falls or descend into Luray Caverns, there are lots of great day trips in the commonwealth:
Explore a new-to-you spot in Maryland: Ride the Capital Wheel at National Harbor, hop on the mountain coaster in the Deep Creek Lake area, or stroll and shop your way through Annapolis or Frederick. Find ideas for Maryland trips here:
Really want to get away? Here are our top picks in New Jersey:
We know heading to the shore can be a traffic nightmare. So we've rounded up the places you can go without suffering the Bay Bridge:
It's been so hot. Here are some awesome places you can check out within 100 miles of D.C.:
Maryland Renaissance Festival
Weekends through Oct. 21, Crownsville, Md.
Hear ye! Hear ye! Don your best 15th-century garb and grab a turkey leg at the Maryland Renaissance Festival. Performances, including jousting, music, science demos and Shakespeare, are plentiful. Check out the schedule in advance so you don't miss your favorite thing. Tickets are discounted through Sept. 9; they cost $19 for adults.
Sports and Sporting
The team is home and playing against the Brewers.
Friday, 7:05 p.m.
Saturday, 7:05 p.m.
Sunday, 1:35 p.m.
Sunday, 7:30 p.m. - Against the Atlanta United FC
Your Friday
Loudoun County Restaurant Week
Through Aug. 31
Restaurants from Ashburn to Sterling are offering deals on food for the county's first-ever restaurant week. Check out the menus here.
Free Pick
Underground Comedy
11:30 p.m., The Big Hunt
Your Saturday
Free Pick
18th Library of Congress National Book Festival
Saturday, doors open at 8:30 a.m., Washington Convention Center
U.S. Supreme Court Justice Sonia Sotomayor plans to launch a kid-friendly adaptation of her memoir at one of the most important book festivals of the year — and that's only one big name. Amy Tan, Madeleine Albright, Tracy K. Smith and Ron Chernow will also be discussing their work. The National Book Festival is free to attend and has programming for fans of any genre, no matter their age.
Reggae Fest
Saturday, 11 p.m., Howard Theatre
Tickets cost $20.
The Really BIG Tequila Party
Saturday, 6 p.m., Big Chief
Register in advance and show up before midnight to get into this boozy celebration. Organizers say there will be surprises and tequila tastings.
Free Pick
Underground Comedy
11:30 p.m., The Big Hunt
Your Sunday
Free Pick
Underground Comedy
8:30 p.m., Wonderland Ballroom
Free Pick
Syria Fest 2018
Sunday, 11 a.m. to 7 p.m., Freedom Plaza
Enjoy food and culture from Syria at this annual festival. It's free to attend.
Free Pick
Labor Day Capitol Concert 2018
Sunday, 8 p.m., West Lawn of the U.S. Capitol
Join the National Symphony Orchestra at the annual, free Labor Day concert. Gates open at 3 p.m. before a 3:30 p.m. rehearsal.
Free Pick
Day of Unity Peace & Prayer
Sunday, 10 a.m. to 5 p.m., National Mall
A number of faith leaders and musicians are set to take the stage at this inter-faith gathering.
Your Monday
Kensington Labor Day Parade
Monday, 10 a.m., St. Paul Park in Kensington
Celebrate Labor Day with a family-friendly parade in Kensington. Schools, equestrian groups, dance groups and floats will complete the parade. Check out a map of the route on the city's website. Afterward, you can eat, shop and play games at a festival.