The day started like any other for Catrena Hunter and her children.
Hunter dropped off two of her daughters at the elementary school her youngest attends, leaving her teenage daughter, Katherine Hunter, to walk to her high school up the block.
By 6 p.m., Catrena's world was upside down.
Katherine didn't pick up her sister from school the afternoon of March 20, and the 17-year-old hadn't been seen since her first-period class. At midnight, she was added to the list of missing people in Washington, D.C.
As police searched for Katherine, Catrena conducted a search of her own, worried that something horrible may have happened to her child.
"Thinking that someone has done something to your child and that you will never see them again," Hunter said. "As a mother, I've been dying."
Fortunately, Katherine came home a few days later. But the situation between the mother and daughter remains complicated.
Local
Washington, D.C., Maryland and Virginia local news, events and information
Katherine won't reveal where she was while she was gone, but she says many missing teens just "want out."
"They're leaving. They don't know what they're looking for. They don't know what they're trying to find," Katherine said.
'Cry for Help'
The issue of missing teens in D.C. exploded on social media last week when a post claiming 14 girls disappeared in a single day went viral.
Police confirmed the post was inaccurate. But no matter the number, there's no denying the danger young people who leave home are in.
According to the National Runaway Safeline, problems in the family are the number one reason youth reach out to the hotline.
"It could be something like there's been a divorce in the family, there could be a remarriage, they may feel like, 'Where do I belong in this new family structure?'" said Maureen Blaha, the executive director of the National Runaway Safeline.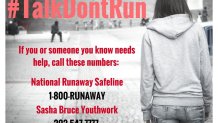 In D.C., many young people who leave home are escaping socioeconomic problems, according to Jim Beck, a spokesman for Sasha Bruce, the only youth-specific emergency shelter in the District.
"The young people we see often come from families that are experiencing a lot of stresses, economic stresses, the stress of raising a family in D.C. on a low income," Beck said.
But a number of other issues can factor into a child's decision to leave home.
Blaha said the National Runaway Safeline also gets calls from children who are being bullied at school or feel like they don't belong.
Abuse is also among the top reasons children reach out to the national hotline.
The National Runaway Safeline, which was founded in Chicago, went national in 1974 when the Runaway and Homeless Youth Act was established to create resources to keep young people out of the "criminal justice system" and address their "cry for help," Blaha said.
So far this year, the District has logged a total of 558 cases of missing juveniles, many of them black or Latino, according to the police department. As of March 30, 17 were still missing.
All of the juveniles reported missing in 2017 left voluntarily, police spokeswoman Karimah Bilal said.
"It's a telltale sign that our city has a long way to go to really fix some of the inequality faces some parts of our city," said Markus Batchelor, who started a campaign called Save Our Sisters. "My main concern is that we get to the cause of why young women and some of our young men in our community as well feel like the only option to feel safe is to leave home."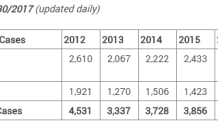 Nationally, the statistics are even more staggering.
Between 1.6 and 2.8 million juveniles will run away from home in a year.
But not much else is known about runaways.
"Here's the reality: There is not a lot of research that goes into this population," Blaha said. "There hasn't been a lot of studies that take a look at that annually."
Runaways at Greater Risk for Human Trafficking
There are 20.9 million victims of human trafficking globally and hundreds of thousands of victims are right here in the United States, according to the International Labor Organization.
While there's no evidence to suggest that any of D.C.'s current missing person cases are related to human trafficking problem, there's no denying the increased risk to teens who run away.
"Homeless youth are most vulnerable of being recruited," Blaha said. "To survive, some will do whatever it takes."
According to the National Network for Youth, 28 percent of youth living on the street and 10 percent of those living in homeless shelters exchange sex for food, shelter or money.
"This is why it's so important to try to help prevent family breakups in the first place and help young people know how to get help," Beck said.
In recent years, the public has become more and more aware that human trafficking is something that can happen in our backyard.
"It's a terrible circumstance, but this awareness may be a silver lining," Beck added.
Getting Help
D.C. Mayor Muriel Bowser announced six new initiatives Monday to address missing young people in Washington.
She outlined steps to locating the missing people, provide better resources to address issues that cause young people to run away from home and support those who may be considering leaving home.
"One thing that we've done differently is to say that every critical missing person report deserves attention, deserves the public's attention and deserves all of us trying to make sure that these kids are reunited with their families," Bowser said.
The National Runaway Safeline also offers a number of resources to young people who have run away.
"We have a database of resources across the country to help them get in touch with a shelter," Blaha said. "We will offer to make the transfer and stay on the line with them so they know what to expect."
The hotline can also help open the line of communication between a child and a parent and eventually facilitate a reunion. Through a program with Greyhound, the National Runaway Safeline has reunited 16,000 families by providing free bus tickets home.
But the community can also help.
"In order to find out the root cause of this issue and ensure that our runaway numbers decrease, then we have to work together," Commander Chanel Dickerson, the new leader of the Youth and Family Services division, said during a Facebook Live broadcast Friday.
Blaha suggests getting involved at local homeless shelters or donating money to organizations who support runaways and homeless youth.
It's also important that the community educate themselves on the issue.
"People need to understand that this is a serious issue in our country. They need to do what they can," Blaha said. "We need to get the word out that this is an issue that can happen to your child or your child's friends."