Flyers showing a Confederate flag and stalks of cotton were found in several locations at American University on Tuesday, and school officials say the campus will not be intimidated.
At least 10 flyers were found in four buildings on the school's Northwest D.C. campus Tuesday night. The flyers show a Confederate flag and the words "Huzzah for Dixie," and had what appeared to be cuttings from cotton plants attached to them.
The flyers were found inside the Mary Graydon Center, Kogod School of Business and the Battelle-Tomkins and McKinley buildings.
"We must stand together strongly against this act, which was intended to frighten and divide our community," American University President Sylvia Burwell said in a statement Wednesday morning.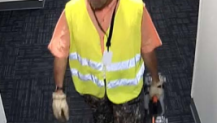 On Wednesday, the school released photos and videos of the man they believe is responsible for hanging the flyers. In the photo, the man is walking down a hallway inside the Mary Graydon Center, wearing an orange hard hat and yellow safety vest. The man is carrying what appears to be a tool kit.
Local
Washington, D.C., Maryland and Virginia local news, events and information
Campus police believe the man is about 40 years old and 5-foot-10. Anyone who recognizes him is asked to call the American University Department of Public Safety at 202-885-2527.
Three videos released by campus police show the man walking in Battelle Hall and the McKinley Building.
The flyers were found as historian Dr. Ibram X. Kendi gave a presentation on the school's new Anti-Racist Research and Policy Center. The center was created earlier this year in the wake of another racist incident on the school's campus, and will be led by Kendi.
"AU is committed to the vision of the Center and Dr. Kendi's work and we will not be deterred by this cowardly attempt at intimidation," Fanta Aw, Vice President of Campus Life said in a statement.
"No matter what happens, let's gather that strength together. Do not let these terrorists fear you down, slow you down," Dr. Kendi said.

In May, someone hung bananas from nooses at several locations around the campus. The bananas were found shortly after student Taylor Dumpson became the first black woman to serve as AU's student body president.
Students packed a townhall meeting Wednesday afternoon to discuss the incident.
"I want to know what's going to happen. I want to know what actions the university intends to take," one student said.

"What can you say to students that this is their freshman year? It has not even been a month into university. They have not yet experienced AU," Student Government President Taylor Dumpson said.

Anyone on campus who has information about the incident is asked to call campus police at 202-885-2527.