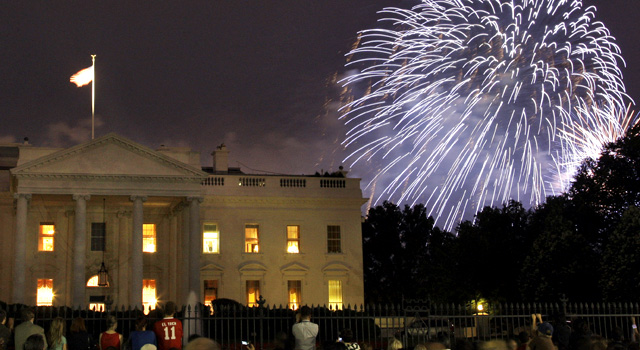 The annual Fourth of July fireworks show and Independence Day events are expected to go on as scheduled Wednesday on the National Mall.
"Maintenance crews and staff have been working around the clock," said Jon G. James, the superintendent of the George Washington Memorial Parkway. Crews have been clearing out debris left from Friday night's violent storm.
The Park Service is encouraging visitors to take public transportation to the festivities, although three parking lots will be available south of Arlington Memorial Circle and at Grambling point. Booze and personal grills are banned from federal park premises, James says, but visitors to the grounds are encouraged to bring water and food to ward off heat illnesses.
People planning to head down to the Mall can also sign up for text message alerts from the U.S. Park Police by texting "JULY 4 DC" to the number 888777. Text alerts will include safety and weather information.
The fireworks show, which will last for 20 minutes starting at 9:10 p.m., is part of a series of events being held on Wednesday, including concerts featuring the U.S. Army Blues ensemble and performer Ben Vereen, and carillon bell ringers.
However, several fireworks displays in Montgomery County were canceled, includes Gaithersburg, Rockville, Kensington and Germantown. Officials said all county resources need to go toward recovery.