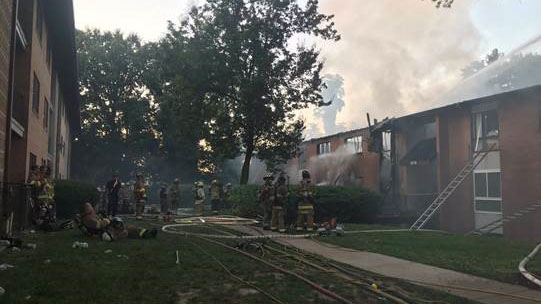 The Prince George's County Office of Emergency Management and the American Red Cross are assisting 59 people who were displaced after a two-alarm fire tore through an apartment building in Oxon Hill-Glassmanor, Maryland, on Saturday.
Firefighters from Prince George's County, Alexandria, Virginia, and Fairfax County, battled a two-alarm fire at an apartment building in the 5500 block of Livingston Terrace Saturday around 6 p.m.
Part of the roof of the burning three-story building had collapsed, the Prince George's County Fire and EMS said.
Residents from 16 of 22 apartments were accounted for, but 37 adults and 22 children were displaced.
There were no confirmed reports of any civilian injuries, but three firefighters were transported to a hospital for minor injuries and burns.
Stay with News4 and NBCWashington.com for updates on this developing story.