What to Know
A firefighter jumped into action when his friend and next-door neighbor's home caught fire and spread to her clothing.
"We never want bad things to happen," the firefighter said. "But we want to be close by when they're happening."
The woman was taken to the hospital with critical injuries.
Minutes after waking to the sound of screams outside his home, a D.C. firefighter saved a woman who was on fire, plus several homes.
Danny Atlas jumped into action Monday morning when his friend and neighbor's home and clothing caught fire.
Atlas awoke to a woman's screams outside his home in 1300 block of Rittenhouse Street NW and ran outside.
"I just saw my neighbor completely on fire," Atlas said.
The elderly woman was using a water spigot to try to extinguish her clothes.
The firefighter helped roll his neighbor and smothered the flames using a blanket. He then gave her first aid.
Local
Washington, D.C., Maryland and Virginia local news, events and information
Another neighbor noticed the woman's house was on fire, and Atlas again snapped into first-responder mode: He ran to grab his own fire extinguisher and contained the flames inside the row house.
Officials say Atlas's quick actions may have saved several neighboring houses from the blaze until on-duty firefighters arrived.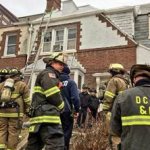 The woman was critically injured and taken to a hospital, fire officials said.
Atlas sometimes has dinner with the woman. He plans to visit her at the hospital.

"It's kind of an odd profession. We never want bad things to happen," Atlas said. "[But] we want to be close by when they're happening."
It's unclear what caused the fire, but firefighters found hoarding conditions inside, officials said.
Normally, Atlas fights fires in a systematic way with a trained team.
"When you're by yourself," Atlas said, "out of a dead sleep in your own home, it's a little bit different."