D.C. police and Metro Transit Police arrested two suspects after a man was fatally stabbed at the Union Station Metro.
Officers found the man suffering from a stab wound about 8:20 a.m. Sunday, shortly after Metro opened for the day. The man died at the scene.
Police said the stabbing happened on the Metro platform at the station.
Officers arrested 23-year-old Angel Moses and 29-year-old Edward Everstine. Moses was charged with second-degree murder while armed and Everstine was charged with accessory after the fact, D.C. police said.
Detectives discovered the stabbing happened during a dispute and the suspects knew the victim, police said Sunday night.
Police closed off an entrance on First Street NE with crime tape during the investigation.
Union Station was closed for nearly five hours while police investigated.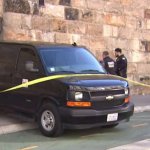 Metro said also a police investigation concluded earlier at Gallery Place, which is two stops from Union Station on the Red Line. Police have not said whether or not the two investigations are related.
Stay with News4 for more on this developing story.