A Maryland college student thought a man she met online paid her $450 cash for her old iPhone -- but he actually gave her an envelope full of fake "movie money" used in film shoots.
The 18-year-old no longer has the phone and is out $50 in real money after her encounter with the scammer. He handed her what she thought was $500 cash, and she gave him $50 change.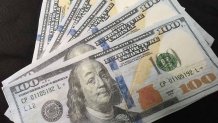 Hannah Buehrle, of Frederick, wanted to sell the old phone to help finance a Memorial Day weekend trip to the beach. Earlier this month, she used an app to advertise it for $400. Before long, she was contacted by a man who called himself Xavier.
Xavier said he would pay Buehrle $450 if she would meet him in Germantown, about 30 miles from where she was in Walkersville. She said she wasn't suspicious when he offered to pay more than the listed price.
"I think it was mostly because I was taking the time out of my day to drive all the way to Germantown, from Walkersville, so I think maybe he wanted to be nice," she said, making air quotes around the word "wanted."
They met in the parking lot of a Kohl's store. Xavier handed Buehrle the envelope. She gave the contents a quick look and saw what appeared to be five $100 bills.
Local
Washington, D.C., Maryland and Virginia local news, events and information
Buehrle handed over the phone and Xavier's $50 change.
They went their separate ways, and Buehrle headed to deposit the payment. She inserted the bills into an ATM, but the machine kept spitting them out.
Then, she looked at them closely.
"I saw at the bottom of one of the bills 'for prop use only,'" she said.
Montgomery County police are investigating.
The movie money looks a lot like real cash. The fonts are the same. The design is largely the same. But if you look closely, warnings appear all over it.
A real $100 bill says "federal reserve note" on the upper left. The movie money says "for cinematic use only." A real bill says "the United States of America" on the upper right. The phony bill says "for motion picture use only."
Benjamin Franklin also has a slight smirk on his face on the movie money and eyebrows are much higher on his forehead.
One company that sells the fake cash, Prop Movie Money LLC, says its bills are designed to look like the real thing on camera. But they say again and again on their website that they will not modify the bills to look and feel exactly like the real thing, with working holograms and the same feel as real cash.
"Our prop money is solely designed for TV, film, photography, training and media productions," the site says. "It will not pass as real currency and cannot be modified to look exactly like real USA currency."
A stack of fake $100 bills costs $25.
Police warn that you have to be careful when making cash deals with strangers. Many police departments suggest doing handoffs outside police stations.