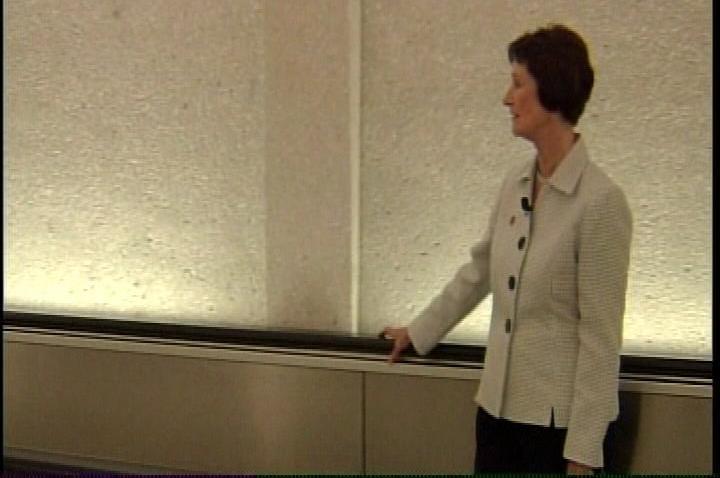 A walk from an above-ground Metro stop at Dulles International Airport wouldn't be as inconvenient as some might think -- at least, that's what one northern Virginia official set out to show the public on Tuesday.
It's the latest show of force in opposition to the Metropolitan Washington Airport Authority's decision to build an (apparently costlier) underground station at the end of the Metrorail to Dulles.
Sharon Bulova, chair of the Fairfax County Board of Supervisors, invited the press to walk with her from the daily parking garage north of the airport to the main terminal this afternoon. And she timed it.
"Seven minutes," she said at the end of the journey. "And most of the time, I was standing still."
Bulova used the moving walkways in the exisiting underground path that currently leads from the garage to the terminal. It would be a quicker trip for passengers who used their own legs the entire way, according to Bulova, and it's a mainly indoor trip.
Her point counters an argument made by a Metropolitan Washington Airports Authority member in a recent Washington Post op-ed, which suggested that passengers would be forced to brave long walks through harsh weather, before or after long flights, if the Dulles Metro station were to be built above ground.
"I think she was under the mistaken impression that an aerial location would have put people out in the elements," the Fairfax County chair said. "That's just not the case."
Bulova said most people are misinformed about how well an above-ground platform would work out at the airport. As for architecture concerns, she said an outdoor station would be built with that in mind.
An even bigger sticking point with Bulova and other Virginia lawmakers is the extra $330 million they say it would cost to build the station underneath the airport.
Bulova said she hopes MWAA will reverse its decision. MWAA has agreed to hold more discussions on the plans.