A teenage girl was found dead in a pond after being assaulted while walking with friends in Fairfax County, Virginia, to her mosque early Sunday, police said. The man suspected of killing her has been charged with murder.
Police believe a body found Sunday afternoon in a pond in the 21500 block of Ridgetop Circle in Sterling, Virginia, is a 17-year-old girl from Reston who was reported missing in the area after the group of friends scattered during the 3 a.m. assault as they were headed to an all-night prayer session after getting food.
Police spokeswoman Tawny Wright said the girl had been walking back to the All Dulles Area Muslim Society (ADAMS) Center with friends when she got into a dispute with a man in a car early Sunday. The man assaulted her, and she became separated from her friends.
The girl's name has not been released, but family friends and organizations condemning the attack have identified her as Nabra Hassanen.
At some point, residents in the area came across the group of friends and directed them to the mosque, where Nabra was reported missing, the mosque said in a statement Sunday night.
"Immediately thereafter, the ADAMS' personnel notified both Loudon County and Fairfax County authorities who immediately began an extensive search to locate the missing girl," the statement said.
Officers started searching for the girl about 4 a.m. Sunday in the area of Dranesville Road and Woodson Drive in Herndon, Fairfax County Officer Tawny Wright said in a news conference Sunday evening.
Local
Washington, D.C., Maryland and Virginia local news, events and information
Police searched a wooded area near Dranesville Road and Woodson Drive area in Herndon, Virginia, for several hours. Loudoun County authorities also helped in the investigation because the area borders the county.
During the search, an officer saw a car driving suspiciously in the area and pulled the driver over before taking him into custody.
Darwin Martinez Torres, 22, of Sterling has been arrested and charged with murder, police said.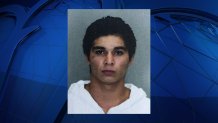 Police discovered a female body in the pond about 3 p.m. The pond is 2 to 3 miles away from the original altercation happened, Wright said.
Police said a baseball bat was recovered. The exact location where it was found is not known at this time.
"We call on law enforcement to investigate and determine the motive of this crime and prosecute to the full extent of the law," the ADAMS Center statement said.

On Monday, police announced that the teen's death would not be investigated as a hate crime.
"At this point, there doesn't seem to be indication this was a bias incident. It looks like they got into a dispute over something," Wright said.
The medical examiner's office will confirm the identity of the remains found.
"I just can't think of a worse instance to occur with the loss of a 17-year-old on Father's Day. As a father of a 17-year-old myself, I can't think of anything worse than confronting that on this particular day," Loudoun County Sheriff Michael Chapman said at the news conference.
Virginia Attorney General Mark Herring released the following statement Saturday night:
"The ADAMS Center has always welcomed me and so many in Northern Virginia like family. This unspeakable attack feels like an assault on our entire community. Words fail at a time like this, so we'll all have to do the best we can to surround them with the love and support they've always shown each of us."
Rep. Barbara Comstock tweeted: "We stand with the @ADAMSCenter_ community in mourning the vile murder of a beautiful 17-year-old girl."

Stay with News4 and NBCWashington.com for the latest.