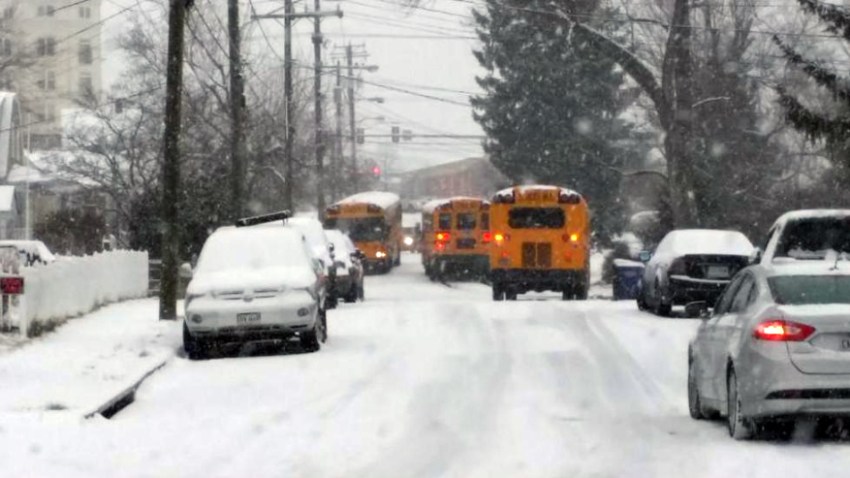 Fairfax County Public Schools remained closed Thursday following a controversial decision to stay open Tuesday despite inclement weather.
Notice of the closure was not posted on the schools' website until 7:10 a.m.
Superintendent Karen Garza addressed the inconvenience caused by the late announcement in a budget meeting Thursday morning.
"We recognize that any kind of change beyond what was reported is cause for angst and certainly inconvenience both for our parents, our students and our staff," she said. "But we had to err on the side of caution today primarily due to what are being reported as really dangerous weather conditions outside due to the frigid cold air."
Fairfax County Public Schools said they chose to close because buses would not start in the morning's frigid temperatures.
"We did not want students waiting in this cold for buses that may be running late because engines wouldn't start," the statement read. "In addition, the refreeze of snow and ice on residential streets and sidewalks also made walking and travel treacherous."
This is not the first issue the school system faced this week.
Many students and parents were upset by the school system's decision to open on time after snow blanketed the region on Tuesday morning.
"The traffic is just dangerous, and it's awful," one parent said.
Students voiced their opinion on having to go to class and made #CloseFCPS a trending topic worldwide on Twitter.
The school system later canceled preschool classes and posted an apology on its website.
"We apologize for the difficulties the weather caused this morning...The decision was made with the best information we had very early this morning. Needless to say, the conditions were far worse than anticipated," the statement read.