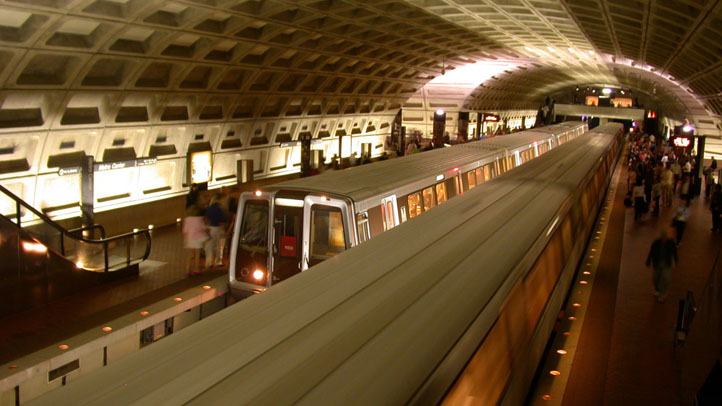 Metro will provide extra rail service Monday for those attending the Washington Nationals game or Independence Day festivities.

Metrorail will run from 7 a.m. to midnight, operating at near rush-hour capacity from 6 p.m. until midnight. The Smithsonian Metro Station will be closed most of the day Monday, and customers are advised to use the following stations to get to the National Mall for the fireworks:
Foggy Bottom-GWU
Metro Center
Archives Navy Mem'l-Penn Quarter
Gallery Pl-Chinatown
Judiciary Square
Union Station
L'Enfant Plaza
Capitol South
Federal Center SW
Many downtown escalators will be off for safety reasons, according to Metro.

From 3 p.m. on, every other New Carrollton-bound Orange Line train will stop at Stadium-Armory and return to Vienna-Fairfax/GMU. After 6 p.m., all Yellow Line trains will run from Huntington to Mt. Vernon Square.
The agency expects more than 500,000 rail trips on Independence Day. They plan to deploy six and eight car trains.
Non-peak fares will be in effect all day. Parking will be free at all Metrorail stations.
The agency said it will random bag searches during the day.
Metro riders traveling on parts of the Red, Orange and Blue lines should expect delays on Friday and Saturday but the agency said there will be no track work scheduled for Sunday or the Fourth of July holiday. The agency said customers on the red, blue and orange lines should add about 20 minutes to their travel time with work to rebuild the rail system being conducted from 10 p.m. Friday through Saturday. Metro said impacts to customers include Red Line trains sharing one track between the Van Ness-UDC and Friendship Heights stations. Orange and Blue line trains will share a track between Eastern Market and Stadium Armory stations.

Metrobuses will operate on a Saturday schedule Monday with detours due to street closures near the National Mall.

MetroAccess will operate on a regular schedule but subscription trips will be canceled.

For complete holiday service information, click here.
Copyright AP - Associated Press