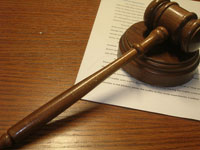 A former police chief from the town of Morningside has pleaded guilty to selling a police handgun, Maryland prosecutors said.
David Allan Eichelberger Jr., 30, of Accokeek, entered his guilty plea to the illegal sale and transfer of a regulated firearm and to theft under $500 on Friday, the Prince George's County State's Attorney office said.
Eichelberger was indicted in November for allegedly selling a Glock 27 handgun owned by the Morningside police department from the trunk of his cruiser.
He faces up to 6 years in prison, prosecutors said. Eichelberger's sentencing was set for March 19.
Copyright AP - Associated Press