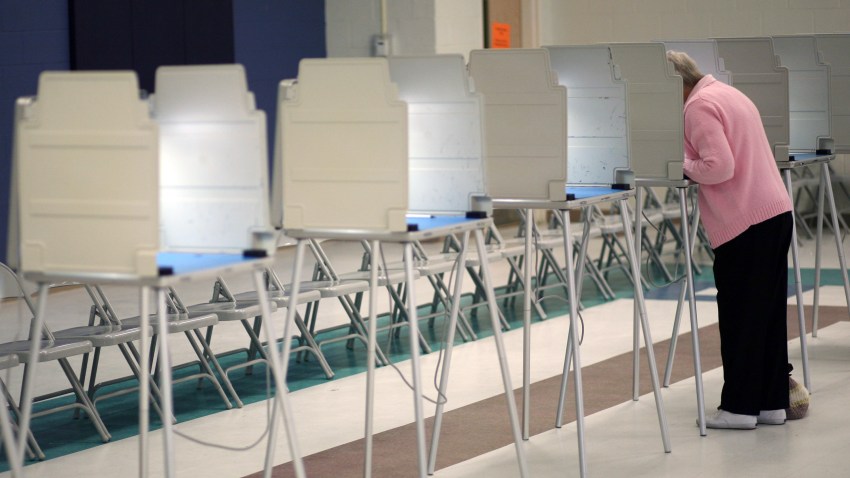 Eight additional early voting locations will open for District of Columbia residents on Saturday.
Each site will be opened from from 8:30 a.m. until 7 p.m. through Nov. 1. The polling locations will not be open on Sundays. One Judiciary Square, the downtown office building that houses the D.C. Board of Elections, opened for voters on Monday.
[[273639061, C]]
Below is a list of early voting sites in the District:
Chevy Chase Community Center
5601 Connecticut Ave NW Ward 3
Multi-Purpose Room
Columbia Heights Community Center
1480 Girard St, NW Ward 1
Gymnasium
Dorothy I Height-Benning Library
3935 Benning Rd, NE Ward 7
Meeting Room
King Greenleaf Recreation Center
201 N St, SW Ward 6
Gymnasium
Malcolm X Elementary School
1351 Alabama Ave SE Ward 8
Multi-Purpose Room
One Judiciary Square
441 4th St, NW Ward 2
Old City Council Chambers (1st floor, right side of building)
Sherwood Recreation Center
640 10th St, NE Ward 6
Gymnasium
Takoma Park Recreation Center
300 Van Buren St, NW Ward 4
Multi-Purpose Room
Turkey Thicket Recreation Center
1100 Michigan Ave, NE Ward 5
Gymnasium
In the April 1 primary, 15 percent of participants voted early. In the 2012 general election, early voters accounted for 19 percent of the ballots cast.
The top race on the ticket is for mayor. Democratic nominee Muriel Bowser is the favorite to replace Mayor Vincent Gray after defeating him in the primary. Three out of four registered voters in the District are Democrats, and the city's Democratic nominee has never lost a mayoral election.

Polls show that independent David Catania is Bowser's top challenger.
Voters will also vote on: