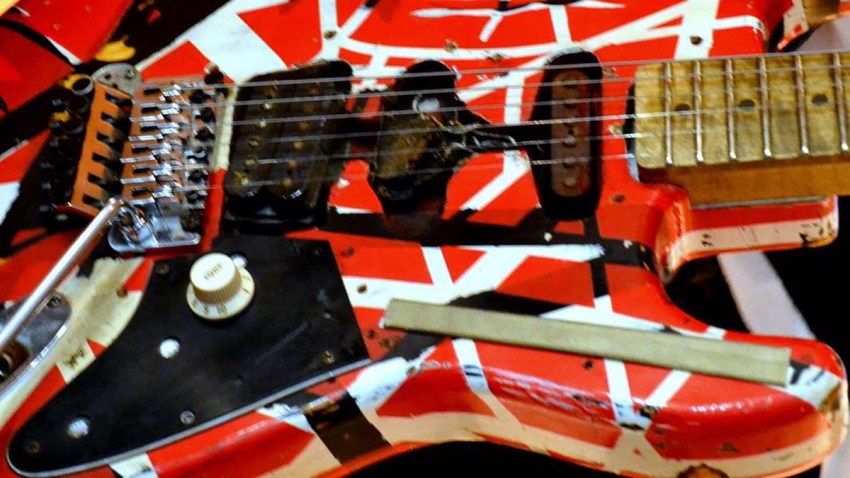 The people in the long lines that stretched outside the auditorium were dressed more like the ones you'd see camping out overnight for concert tickets than those waiting for a lecture at the Smithsonian. But this was no stuffy presentation.
This was an evening with Eddie Van Halen.
The theme at the American History Museum Thursday was the question "Is Rock n' Roll about reinvention?" It's a fair question for a musician who formed his first rock band in elementary school, before bringing metal to Top 40 in the band Van Halen.
Eddie Van Halen's reinvention started with his family's move to America from Holland when he was young. Their voyage was nine days on a ship, where his father played piano in exchange for their fare. He and his brother also played during intermission to entertain passengers.
Upon being asked by a young fan what his first day of school was like in America, Van Halen told how hard it was adjust. He didn't know the language and had to deal with bullies who ripped up his homework.
After participating in and winning piano competitions in junior high, he decided to switch instruments and learn drums. He got a paper route to raise the money to buy his own set. Coming home one day, he found his brother Alex playing them.
"I was P.O.'d," he said. But after seeing how good his brother was, Eddie gave in. "Go ahead, take my drums. I'll play your damn guitar," he said.

His reinvention continued with the new instrument. Van Halen never learned to read sheet music, and back in the day there was no Youtube to see how people played guitar. Van Halen's inspiration for tapping two hands on the fret came from seeing Jimmy Page play with one hand at a concert at the Forum.
Reaching for a guitar Thursday night, Van Halen thrilled the audience with a live demonstration of some of his signature licks.
Not only did he play his own way, he played his own guitar. There was no guitar on the market that did what he wanted it to do, so he built one.
Piecing together parts from Gibsons, Fenders and others, he created the iconic guitars that have come to symbolize Van Halen. He did the same with his amplifiers, even repurposing a light dimmer as a volume control. "When Spinal Tap was going to 11, I was already going to 15," he said.
A replica of his white-with-black-stripe Stratocaster has been donated to the Smithsonian along with an EVH Brand 5150 amplifier and a Stealth finished EVH Brand Wolfgang guitar.
The Smithsonian said they hope to put the gifts on display to the public soon.
The evening was part of a series with the theme "What It Means to Be American." It was organized by Smithsonian's National Museum of American History and Zócalo, which blends journalism with live events.