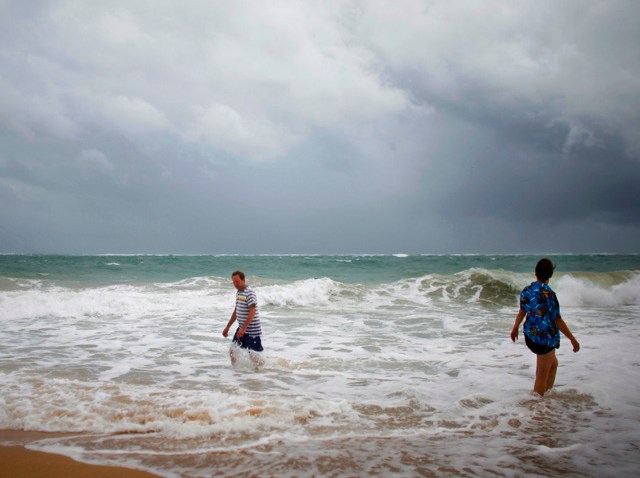 About 200,000 beach-goers are gearing up for their last weekend of summer in Ocean City, Md., but Hurricane Earl could dampen dreams of an endless summer sun.
Hurricane Earl has been upgraded to a Category 4 storm, with winds reaching speeds of 135 mph. A coastal flood watch is in place from Thursday morning through late Thursday night. And a hurricane watch is in place for the Eastern Shore and nearby coastal areas.
The increased water levels arriving with Hurricane Earl could bring minor to moderate tidal flooding to points along the Chesapeake Bay and the Potomac River.
Making matters potentially worst, there are now three storms brewing in the Atlantic today. Tropical depression 9 has been upgraded to a tropical storm and given a name: Tropical Storm Gaston.
Maryland's emergency management director said he does not believe an evacuation will be needed; a definitive decision about evacuation will be made Wednesday.
The hurricane could pass 200-plus miles off the coast of Ocean City late Thursday or early Friday. While that sounds like a safe distance, Ocean City could see tropical storm winds up to 55 mph. But even a slight turn west could impact the coast more dramatically.
NBC4 meteorologist Tom Kierein said it appears that the latest track forecast has Earl passing farther east than the last couple of days, which would keep its strongest winds and heaviest rains off shore over the western Atlantic.
However, on Friday the Atlantic beaches could have heavy surf, near-tropical storm force winds up to 70 mph and passing bands of heavy rain -- all probably ending by Friday afternoon.
As for the Chesapeake Bay, the lower part of the Bay may have small craft advisories or perhaps gale warnings as the storm passes by on Friday.
Some power outages will be possible at the beaches Friday morning and midday, but the main effects of the storm should be over by Friday afternoon, Kierein said. The heavy surf could still cause dangerous conditions for swimmers at the beaches through the rest of Friday. But it should improve after that, as cooler temperatures, lower humidity and more sunshine are expected Saturday and Sunday.
Virginia Gov. Bob McDonnell declared a state of emergency to mobilize the National Guard and state police. A state of emergency must be declared under state law so that additional resources are available and positioned for use if necessary. The hurricane watch for the North Carolina coast was expanded Wednesday morning to include Virginia.
"The current forecast has Hurricane Earl passing east of Virginia later this week," McDonnell said. "However, a change in the storm's path could bring hazardous weather conditions to eastern Virginia. This declaration is a precautionary move which will allow state agencies to be ready just in case resources are needed."
Along the Outer Banks of North Carolina, where a line of abandoned beach houses tip toward the sea after years of storm damage, evacuations of tourists got under way at 5 a.m. Locals, who claimed the hurricane was simply "winking" at them, will be permitted to ride out the storm.
Earl was expected to remain over the open ocean before turning north and running parallel to the East Coast, bringing high winds and heavy rain to North Carolina's Outer Banks by late Thursday or early Friday. From there, forecasters said, it could curve away from the coast somewhat as it makes it way north, perhaps hitting Massachusetts' Cape Cod and the Maine shoreline on Friday night and Saturday.
Forecasters cautioned that it was still too early to tell how close Earl might come to land. But not since Hurricane Bob in 1991 has such a powerful storm had such a large swath of the East Coast in its sights, said Dennis Feltgen, spokesman for the National Hurricane Center.
"A slight shift of that track to the west is going to impact a great deal of real estate with potential hurricane-force winds," Feltgen said.
In the Caribbean, the cleanup from Earl is already under way. Surfers enjoyed the huge waves that crashed on the beaches in Puerto Rico. Strong wind gusts knocked out power to nearly 200,000 people on the island.
---
Weather on the Web: Get the latest weather from NBCWashington.com anytime, anywhere:
Follow us on Twitter and Facebook. Sign up for our e-mail newsletters and get breaking news delivered right to your mobile phone -- just text DCBREAKING to 622339 to sign up. (Message and data rates may apply.)
Copyright AP - Associated Press