Floodwaters blocked all lanes on US-50 between Kenilworth Avenue and Columbia Park Road in Cheverly, Maryland, for a few hours Sunday night.
The Maryland State Highway Administration said about 10:15 p.m. that all lanes were back open.
A water rescue team was on its way to help a person get out of a stalled car on US-50, Prince George's County Fire Department spokesman Mark Brady said.

A massive tree fell earlier Sunday on the Capital Beltway Outer Loop in Bethesda, Maryland, stopping traffic.
The tree fell between Interstate 270 and Old Georgetown Road.
It has since been cleared and the lanes are back open.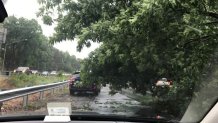 Trees have fallen on homes and cars throughout the region as heavy rains continue to soak the ground.
Local
Washington, D.C., Maryland and Virginia local news, events and information
In D.C., a huge tree crashed onto a home on Texas Avenue SE about 12:30 p.m. Sunday. No one was injured and everyone inside the home made it out safely, D.C. Fire and EMS said.
"A lot of cracking, I thought it was an earthquake initially and the tree fell. Nothing you can do about it. It's nature, you know," said Mark Fuller, who lives in the home.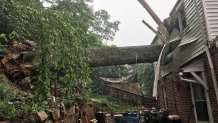 Trees also fell onto cars in some parts of the city.
Resident Greg Solomon said he was on his back porch at his home on P Street reading the Sunday paper, when he heard a smash.
"I knew just what that was. The unmistakable sound of wood hitting metal," Solomon said.
Stay with News4 and NBC Washington for updates.