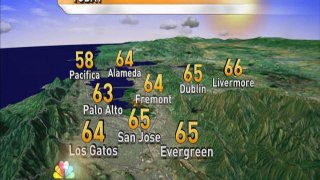 Editor's Note: Some abusers may track internet activity. If you think you are being monitored, domestic violence support organizations recommend using a safe computer at a public library, an internet cafe or a friend's home, or some other device that your abuser does not have access to. You can also contact helplines over the phone at the numbers listed below.
October is Domestic Violence Awareness month, and throughout the month NBC Washington's "Safe at Home" series will be highlighting safety resources available in our area.
More than one in three women and one in four men in the United States have been affected by intimate partner violence in their lifetime, according to a 2010 Centers for Disease Control and Prevention report.
If you feel you are in immediate danger, call 911. Or, you can reach the National Domestic Violence Hotline at 800-799-7233 or TTY 800-787-3224.
We're making it easier for you to find stories that matter with our new newsletter — The 4Front. Sign up here and get news that is important for you to your inbox.
Here are some national and local hotlines, shelters and organizations that you can contact for help and support.
Jump to: National / DC / Maryland / Virginia / Help a friend / Financial Abuse
Local
Washington, D.C., Maryland and Virginia local news, events and information
The National Domestic Violence Hotline offers free, confidential, 24/7 support to people who are being abused or at risk of abuse. The Hotline can be reached at 800-799-SAFE (7233). Victims can also visit the Hotline's website for information on how to recognize abuse, healthy relationships, resources and more.
For a list of domestic violence safety tips, visit National Resource Center on Domestic Violence's website.
Loveisrespect offers domestic violence support specifically aimed to "engage, educate and empower young people to prevent and end abusive relationships." Free, confidential phone, chat and texting services are available to teens, young adults, parents, educators peers and survivors 24/7. You can reach Loveisrespect at loveisrespect.org, by texting loveis to 22522 or calling 866-331-9474.
DC SAFE and the DC Coalition Against Domestic Violence provide victim services, lead advocacy efforts and strive to raise awareness about domestic violence in the area.
To find a DC Shelter or Resource Center near you, you can look at DC Safe's community resources or visit the DC coalition's "Find Help" page.
DC Coalition Against Domestic Violence
5 Thomas Circle, NW
Washington, DC 20005
Office: 202-299-1181
Fax: 202-299-1193
Website: www.dccadv.org
Email: info@dccadv.org
Residents in Charles County, Maryland, can turn to the Center for Abused Persons for help in times of crisis. Anyone in need of help can call the center's 24-hour crisis hotline at 301-645-3336.
The Maryland Network Against Domestic Violence provides information on legal options, advice for friends and families and a page of local programs for victims and survivors. The Maryland Community Service Locator also lists available victims services, and the People's Law Library of Maryland a offers a list of domestic violence shelters that allows you to search for shelters by county.
Maryland Network Against Domestic Violence
4601 Presidents Dr., Ste. 370
Lanham, MD 20706
Hotline: 800-634-3577
Office: 301-429-3601
Fax: 301-429-3605
Website: www.mnadv.org
Email: info@mnadv.org
The Virginia Sexual & Domestic Violence Action Alliance compiles an annual directory of member agencies in the state. You can also reach the Virginia Family Violence and Sexual assault hotline for 24/7, free, confidential service at 800-838-8238.
For members of the LGBT community, the alliance offers an LGBTQ Partner Abuse and Sexual Assault Helpline. Individuals can call 866-793-9999, text at 804-356-6998, or chat online to receive confidential support, referrals, safety planning and other information.
The City of Alexandria also provides a helpful webpage that includes information on how to recognize domestic violence, create a safety plan, obtain a protective order, find a support group and more.
Virginia Sexual & Domestic Violence Action Alliance
5008 Monument Avenue, Suite A
Richmond, VA 23230
Office: 804-377-0335
Website: www.vsdvalliance.org
Email: info@vsdvalliance.org
If you think a friend may be in an abusive relationship, be supportive and listen without judgment. Understand that it's often difficult for victims to discuss their abuse or leave an abusive relationship. Call the police if you are a friend or neighbor who knows a battering incident is taking place and victims are in immediate danger.
For more information on how to help a friend or family member, visit these pages:
How to help a friend who is being abused
Why people stay in abusive relationships
Help a friend or family member
Love is Respect: Helping a friend
Some women in abusive relationships can't "just leave" because of financial concerns. The Allstate Foundation's Purple Purse campaign provides financial tools and raises money for domestic violence survivors to help them prepare for the future and escape abusive relationships.
For more information, click here.