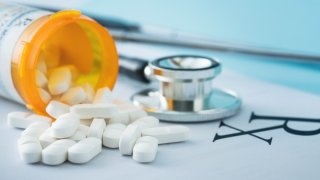 A doctor was sentenced to 15 months in prison for illegally prescribing controlled substances to a man who died of an overdose in Virginia, prosecutors say.
Dr. Robert M. Cao, 39, of Lafayette, Louisiana, and previously of Falls Church, Virginia, was sentenced Tuesday in U.S. District Court for the District of Columbia. He had prescribed "various narcotic pain medications in the months and days leading up to an overdose death in Virginia," according to a Wednesday news release from the U.S. Department of Justice.
In May 2021, first responders were called to a home in Fairfax, Virginia, where a man's girlfriend had found him cold and unresponsive, prosecutors said. An autopsy revealed the victim's cause of death was oxycodone and ethanol poisoning, prosecutors said.
Prescription bottles, including one that contained Percocet, were found on the victim's nightstand, with Cao listed as the prescribing doctor, prosecutors said.
We're making it easier for you to find stories that matter with our new newsletter — The 4Front. Sign up here and get news that is important for you to your inbox.
Cao, who was licensed in D.C. and Virginia, wrote prescriptions for oxycodone and hydrocodone to the victim at least five times in 2021, prosecutors said in Wednesday's release. Cao did not have a doctor-patient relationship with the victim and didn't examine or diagnosis the man, and knew the victim didn't have any conditions that required those medications, the news release said.
According to court filings, Cao and the victim exchanged text messages in which they discussed Cao prescribing the medications to the victim, who agreed to give him a kickback of some of the pills, prosecutors said. The two also had meetings, including one in a parking lot the night before the victim's death so Cao could get a portion of the pills from the victim, prosecutors said.
"It's outrageous that someone who had a duty to 'do no harm' would turn around and prescribe a medically unnecessary, dangerous drug," U.S. Attorney Matthew M. Graves for the District of Columbia said in Wednesday's news release.
"People in our country are dying by the thousands from drug overdoses," Graves' statement continued. "The defendant was better positioned than most people to know the potential consequences of illegal distribution, yet he nevertheless decided to unlawfully prescribe a drug, regardless of the life-threatening consequences."
Authorities have not released the victim's name.
According to court documents, Cao took several steps to avoid being caught, including telling the victim not to create a paper trail and and to fill the prescriptions at times when they were least likely to be questioned by pharmacies. Cao wrote the illegal prescriptions by using a prescription pad from a previous employer, and hid the pad in a hollowed-out container designed to look like a diary, prosecutors said.
After hearing about the victim's death, Cao created backdated medical records to falsely show that he and the victim had a lawful doctor-patient relationship, prosecutors said.
Cao pleaded guilty in the case in November 2022.
In addition to the 15-month prison term, a judge also sentenced Cao to 36 months of supervised release and 100 hours of community service. He is prohibited from ever again holding a job that would give him access to controlled substances, the release said.