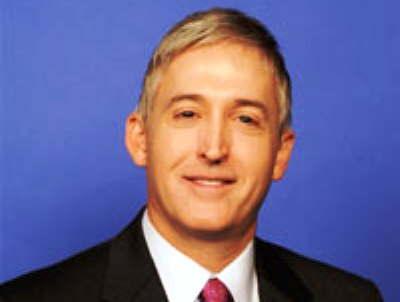 Trey Gowdy, a Republican from South Carolina now in his third week as a U.S. congressman, is the new pseudomayor of the District of Columbia.
House Oversight and Government Reform Chairman Darrell Issa has tapped Gowdy, a former county solicitor, to head the subcommittee dealing with D.C. affairs. Though under Democratic rule the committee usually slumbers, ambitious Republicans tend to be a bit more aggressive in exercising their authority over the federal city.
Gowdy, a graduate of Baylor University and the University of South Carolina School of Law, was a federal prosecutor before serving as solicitor for a decade. When a South Carolina budget crunch resulted in unpaid furloughs, Gowdy used money from his own campaign account to keep his staff working.
Gowdy challenged Rep. Bob Inglis in the GOP primary in the state's Fourth District last year. With the support of the Tea Party movement, Gowdy trounced Inglis and went on to easily win the seat in November. He has said his main test for supporting legislation will be whether the Constitution authorizes it, suggesting he may be assertive regarding congressional power over the District.
In a statement, Issa said, "As a local prosecutor, Trey has a unique understanding of how to effectively navigate around diverse and complex issues. That is the kind of experience we need to lead this subcommittee's oversight of our constitutionally mandated Census, our vital public records, and our Nation's Capital."
Rep. Paul Gosar, a dentist elected to Congress from Arizona last fall, will be the vice chairman of the committee. Rep. Jo Ann Emerson was previously named to head a related budget committee.
Elsewhere in the DMV:
* George Allen is ready for a rematch against Virginia Sen. Jim Webb, but it's still not clear if Webb is. The Washington Examiner says Webb "has been coy about whether he'll run for re-election, leaving Democrats pondering potential contingency plans as they try to rebound" from a difficult 2010 election. Political analyst Bob Holsworth told the paper, "I think the Democrats, both nationally and in Virginia, want to know what's going to happen sooner rather than later. The reality is that Democrats at the moment don't have a deep bench." The most mentioned possibility is Tom Perriello, "who lost his bid for re-election to the U.S. House of Representatives in November but has remained popular among the rank-and-file of Virginia Democrats for his amicable, straightforward style."
* There could be about 20 names on the April special election ballot for At-Large D.C. Council, but Ron Moten won't be one of them. Washington City Paper's Alan Suderman reports "the anti-youth violence advocate and former campaign adviser/manager/surrogate to Adrian Fenty says it's not the right time." Asked if he would run, Moten said, "I thought about it, but nah." Instead, Moten is organizing an anti-violence group called the DMV Peace Authority.
* The Washington Times reports that as chairman of the Committee on Aging and Community Affairs, Ward 8 Councilmember Marion Barry will have "power over bills to aid ex-felons." Barry told the Times, "This committee lets me keep a citywide presence. It takes me back to my natural constituencies."
* The Examiner reports that a "small part of Virginia Gov. Bob McDonnell's efforts to raise transportation funds could allow businesses with large vehicle fleets to print their logos on license plates."
* Common Sense blogger David Skiles says Lt. Gov. Bill Bolling should be Virginia's next governor, writing that McDonnell and Bolling "have been hard at work ensuring that Virginia's economy continues to grow and that the Commonwealth remains one of the top business-friendly states in the nation," and that Bolling is the one to continue that work when McDonnell's term ends.
* The Washington Post reports Virginia House Minority Leader Ward Armstrong wants to ban legislators from serving on the state tobacco commission.
* The Manassas News and Messenger reports Tito Munoz, the Deborn Construction owner known as "Tito the Builder" during the 2008 presidential race, is running for chairman of the Prince William County Board of Supervisors. A "first-timer in politics involved with the fiscally conservative grassroots Tea Party movement, Munoz was highlighted by the McCain-Sarah Palin camp during their election bid." He will face incumbent Corey Stewart and Robert Weir in the race for the Republican nomination.
* Potomac Local reports Fairfax County residents "are wrangling with the idea of forming a citizen review board for the police department, following the fatal shooting of an unarmed man."
* WBAL reports a Maryland legislative committee "will take up proposed rules on how lethal injections are administered" in the state sometime within the next month. Capital punishment "has been on hold since the state's highest court ruled in late 2006 that the committee hadn't properly approved Maryland's lethal injection protocols."
* The Baltimore Sun reports that with federal action on immigration reform on the back burner, Maryland legislators plan to take up the issue in Annapolis this year.
* The Associated Press reports the "liberal lobbying group" Progressive Maryland wants the state "to increase the minimum wage from $7.25 an hour gradually to $10 an hour by 2013. Maryland last raised the minimum wage in 2009 when the federal minimum wage was raised."
* The Montgomery County Civil Rights Coalition is troubled by Metro Transit Police Chief Taborn's warning that Metro riders refusing a bag search would "be observed" and "be watched."
* The number of burglaries in the District is on the rise, Borderstan notes.
* FamousDC tracks the brief life of a suitcase left abandoned on a Capitol Hill street corner.
* My Scenic Byway considers the unique energy of D.C.
* If you have $1.3 million and want to live in an embassy, the Central African Republic has a deal for you, Urbanturf writes.
Follow P.J. Orvetti on Twitter at @PJOinDC