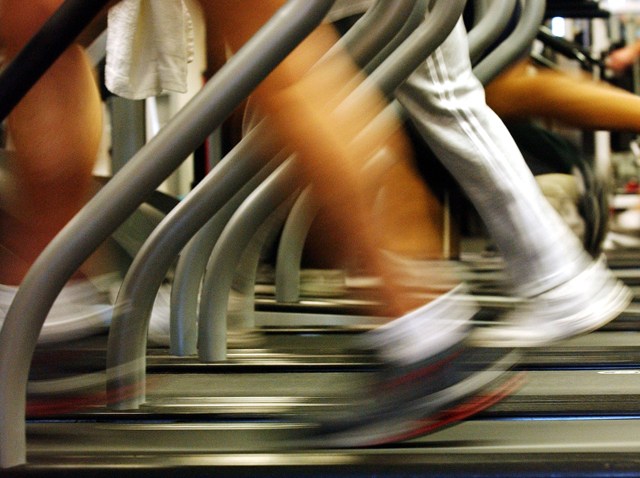 We're healthy, but we're ugly.
A new report from the American Human Development Project ranks the Washington area first among the nation's big cities on its index of income, education, and life expectancy. But a survey of readers of "Travel + Leisure" magazine ranks D.C. the sixth least attractive city in the U.S., saying that while Washington is a "hotbed of culture," it "apparently doesn't attract the hotties."
I guess they've never seen our mayor with his shirt off.
The well-being report finds some of the expected disparities in D.C. White residents have a longer life expectancy than residents of any state, but black Washingtonians have a life expectancy more than 12 years shorter. D.C. may have one of the nation's highest income levels, but it also has the highest infant mortality rate in the U.S. And we have both a high dropout rate and a high number of residents with advanced degrees.
For one local blogger, though, D.C. is ideal: "I like the fact that I can live here without a car, but that I can rent a car and drive an hour each way and find such amazing history among mountains, beaches, or just neighborhoods. … Where did Glenn Beck and Jon Stewart/Steve Colbert have their rallies? And could I have walked there? (Yes... Did I? No.) Where did Top Chef have its latest season? … Where do they have the National Book Festival every year? Yep, right here on our Mall!"
Elsewhere in the DMV:
* Mayor-Elect Vincent Gray is trying to decode a huge plaque that used to hang near the entrance of the Wilson Building. In the Washington Post, John Kelly writes that the plaque, "made of several glass panels" and "about five feet wide and four feet tall and covered with names painted in gold," was put in storage during a 1997 renovation project and was rediscovered last year. But it seems "no one knows what the commemorative plaque actually commemorates. Even people who walked past it every day for 30 years are scratching their heads, trying to remember." Gray is asking longtime residents and history buffs for help.
Nelson Rimensnyder, a history lover and occasional Republican candidate in D.C. -- he ran against Del. Eleanor Holmes Norton this year -- is on the case. "We think it's World War II. We think it's District employees," he told Kelly. "But we need to confirm that."
* Washington City Paper's Alan Suderman says the "half-dozen or so Fenty faithful who were awarded $70k-a-year jobs for a couple of months of work" between Adrian Fenty's primary defeat and Gray's January inauguration can anticipate separation pay of about $6,000 each.
* The Washington Examiner's Jonetta Rose Barras is skeptical about incoming D.C. Council Chair Kwame Brown's transition team: "Several members have been around the block a few times and inside city hall for decades, trying to influence people and policies." She adds, "Far too often the folks with so-called experience have never operated outside the District. They have developed a compendium of 'best practices' but know little about implementing them." Brown rather lamely defended himself: "I think I've been known to bring some innovation. I'm not going to stop."
* The Examiner's Freeman Klopott reports the D.C. Council has "passed an emergency bill requiring mortgage lenders to enter a 90-day mediation before foreclosing on a home." Ward 4 Councilmember Muriel Bowser's bill passed unanimously on Tuesday. More than 1,300 D.C. homes entered foreclosure in September alone.
What else did the D.C. Council do yesterday? It met with some clowns -- actual clowns. DCist's Aaron Morrissey says the Council "honored Judy and Gary Kopff, a couple who moonlight as clowns and entertain wounded soldiers at Walter Reed Medical Center, among other places."
* Urbanturf says a bunch of folks in D.C.'s Burleith neighborhood spent two months patrolling the streets "identifying what they believe are illegal rentals" and informing the Department of Consumer & Regulatory Affairs on the suspected wrongdoing. Renting out English basements is a District tradition, and it's mutually beneficial -- it helps some people find relatively cheap housing, and helps others pay their steep mortgages -- but the rentals have to be registered with the city.
* Think Progress blogger Matt Yglesias says cab drivers who helped elect Gray mayor now want theirs: a New York-style "medallion" system that would limit the number of taxis. Cabbies, Yglesias writes, "were solid Gray backers because they (accurately) blamed Fenty for imposing a rational meter system on the city rather than an insane zone system. Even the cabbies aren't crazy enough to actually suggest going back to the old system," but they want "an artificial regulatory restriction on the supply of taxis" to keep the pie from being cut into too many slices.
* Rep. Chris Van Hollen, who is likely to be squeezed out of the House Democratic leadership, is instead pursuing the top Democratic slot on the House Budget Committee, the Post reports. The panel's top Democrat, South Carolina's John Spratt, lost his seat last week, and the next Democrat in line, Pennsylvania's Allyson Schwartz, is clearing the way for Van Hollen.
* Justin Snow, a columnist for the University of Maryland Diamondback, thinks newly re-elected Gov. Martin O'Malley has his eye on the White House in 2016: "The Kennedy-esque comparisons will no doubt surge as a tingle rushes up the legs of women and gay men everywhere -- and just wait until they find out he has an affinity for muscle shirts and fronts his own band."
* Gov. Bob McDonnell plans to put most of the $1.45 billion in savings found in a private audit of the Virginia Department of Transportation into the hands of the Commonwealth Transportation Board. The Post says more than a half-billion dollars "will be allocated to specific projects by the board during a spring 2011 update to the six-year transportation improvement program."
* Is Loudoun County a tourism destination? Maybe.
* Are these the new Nats jerseys? No.
* WTOP says though the elections are over, D.C.-area residents must still contend with "hundreds of campaign signs and posters skewered on lamp posts and stuck in tree boxes." Yes, we noticed.
Follow P.J. Orvetti on Twitter at @PJOinDC