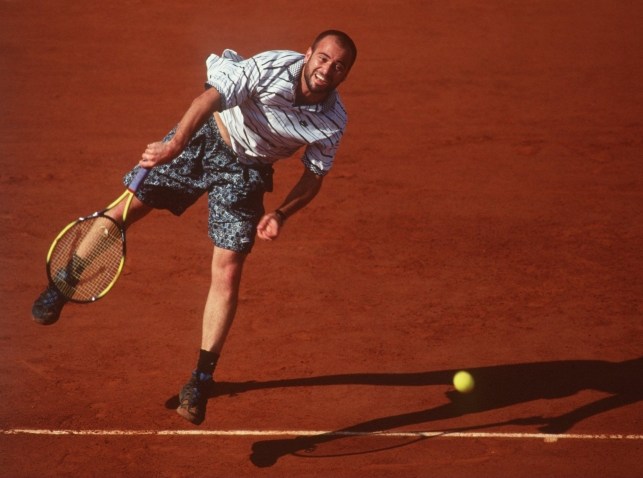 It was a hyperactive bald guy summit.
Politico reports tennis star Andre Agassi "was the guest of honor at an intimate dinner party" in Tysons Corner Tuesday night, where he sat beside Mayor Adrian Fenty "and praised the mayor's efforts on education. It was clear that Agassi was sad that Fenty would no longer be in office, and sadder still about the state of education in the District." Said Agassi: "If I lived in D.C., I'd move out, too!"
Fenty may be looking for work while his patron Michael Bloomberg is considering a presidential run yet again, but at least Bloomberg, who's in D.C. this week, "is not as hot" as Fenty. That's the conclusion of Glittarazzi's Kelly Ann Collins, anyway. Maybe Bloomy needs a handsome running mate with time on his hands?
Elsewhere in the DMV:
Washington City Paper's Alan Suderman slams the upcoming vote on a D.C. At-Large councilmember by the D.C. Democratic State Committee as "the hacks' moment." Suderman rightly notes that D.C. "has never been much of a machine-politics city," even though it is dominated by a single party, and "the party organization reliably gets to flex its muscles at only one rare moment in the political cycle: Right now." While the right of a party panel to select a government representative has irked some observers, Suderman writes that even D.C. "is enough of a machine town that said party hacks aren't going to let a bunch of good-government types ruin their moment in the sun."

Of course, the candidates who want the panel's support are defending the process. Earlier this week, frontrunner Vincent Orange warned darkly of "a movement to manipulate the DCDSC out of its power granted to us by the Home Rule Act." His chief rival Jacque Patterson now says the committee "was attacked" in the media "for beginning the process to fulfill its public duty." Patterson compares the members of the party panel to elected members of the U.S. Congress, chosen "to serve as the voice of many." We can expect a lot more of this sort of talk between now and the Jan. 6 vote.
Metropolitan Washington Central Labor Council President Joslyn Williams, who approvingly said earlier this fall that D.C. is "owned by Democrats" and that Republicans, independents and others are "welcome to pay your taxes, but you're not welcome to govern the city," has been named to Mayor-Elect Vincent Gray's transition team. The Washington Examiner says Gray "was criticized for not initially including labor leaders on his transition team when he rolled it out earlier this month."

In the Washington Post, Mike DeBonis says the pick "reflects the balance Gray has tried to strike between acknowledging the contributions of unions to his election and facing up to the governing decisions that await him in the months ahead. On one hand, unions gave his campaign a volunteer base that helped offset Fenty's fundraising advantage. On the other, as mayor, he must tackle a budget deficit that could balloon to $500 million before his four-year term is up."
Follow P.J. Orvetti on Twitter at @PJOinDC