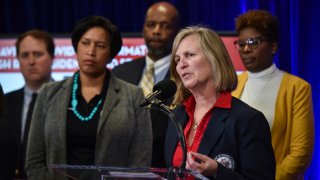 The director of D.C.'s crime lab has resigned, officials said Wednesday.
Dr. Jenifer Smith's resignation was accepted by Mayor Muriel Bowser after at least two members of the D.C. Council and Attorney General Karl Racine called on her to step down.
The D.C. Department of Forensic Sciences has been at the center of a criminal investigation by the District inspector general and recently lost its accreditation.
"Dr. Smith's departure from DFS is an important first step in addressing the substantial issues that led to the decision of the local and federal prosecutors to cease using the lab and its accreditation being stripped," Racine said in a statement. 'We look forward to working with the mayor, law enforcement partners, and defense counsel to rehabilitate DFS."
Three confidential sources came forward before the crime lab's accreditation was revoked in April and alleged that mistakes had been made in the firearms and fingerprints sections of the department and then covered up by managers.
Chris Geldart, the acting deputy mayor for public safety and justice, confirmed that Smith's last day would be May 26.
"We thank Dr. Smith for her service and appreciate the job she has done in progressing the agency during her tenure," Geldart said. "We remain firmly committed to the priorities of an independent lab; the timely collection, evaluation, and processing of criminal evidence; and high-quality public health analysis."
Correction (May 19, 2021, 8:35 p.m. ET): This article has been updated to correct the spelling of Dr. Jenifer Smith's name.