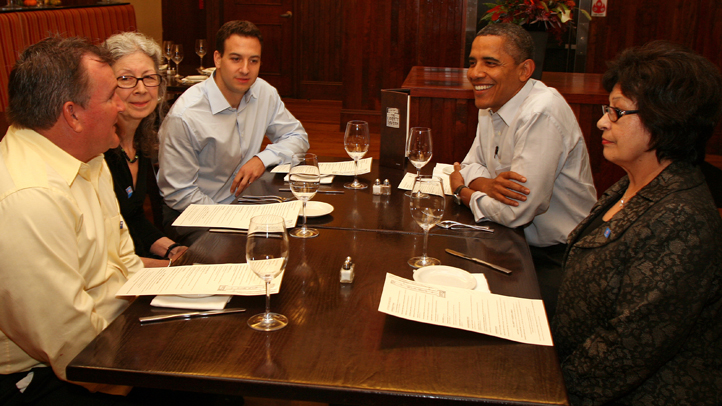 Two retirees, a U.S. Postal Service worker and a business owner from politically important Midwestern and Southwestern states, all donors to President Barack Obama's re-election campaign, got a rare opportunity Thursday to bend his ear over dinner in Arlington, Va.
Obama said after the dinner at The Liberty Tavern on Wilson Boulevard in the Clarendon section of Arlington that he's president because of people like them.
"This dinner is important because I'm only president thanks to the work of millions of Americans like the four I just met,'' he tweeted.
According to arlnow.com, the president ate swordfish with white beans and lamb sausage.
"As an Arlington restaurant and independent business people, we're just extremely flattered," Liberty Tavern co-owner Stephen Fedorchak told arlnow.com. "It's an honor. We understand the magnitude of it but we wanted to have fun with it as well. We offered the same hospitality we strive for with every guest that comes in our restaurant."
Obama's re-election effort offered "Dinner with Barack" to help boost campaign contributions in the April-to-June fundraising quarter, during which it reported raising more than $47 million. Giving was not required, but the campaign requested donations of at least $5 from anyone willing to contribute.
Keeping its end of the deal, the campaign was paying for one night in a hotel and flying in the contributors from Arizona, Colorado, Indiana and Minnesota -- all states important to Obama's
re-election hopes.
Of those states, Obama lost only Arizona in 2008. His campaign has floated the idea of trying to compete this time around in the traditionally Republican-leaning state. Minnesota traditionally
leans Democratic, but most of the upper Midwest states, which have suffered as a result of the economy, appear to be up for grabs heading into next year's presidential contest.
The donors were identified as: Juanita Martinez, a retired teacher from Brighton, Colo.; Wendi Smith, an artist and retired professor from Corydon, Ind.; Ken Knight, a U.S. Postal Service
employee from Chandler, Ariz.; and Casey Helbling, an entrepreneur and small-business owner from Minneapolis.
Reporters allowed into the upstairs dining room before any food or drinks were served heard Obama and Knight chat about spring training and the Chicago White Sox, Obama's favorite baseball team.
Obama, dressed casually in slacks and a shirt with the sleeves rolled up, then asked each donor where they were from as reporters were escorted back downstairs. He spent about an hour at the
restaurant before returning to the White House.
Vice President Joe Biden, a subsequent addition to the dinner, did not attend because he was out of the country, having led a U.S. delegation to Saudi Arabia on Thursday to offer condolences after
the recent death of the kingdom's second-in-line for the throne.
Obama had dinner with campaign donors when he first ran for president. The dinner contest will be held quarterly as the presidential race steams toward a November 2012 finish line.
In a video announcement from his 2008 campaign, Obama said he wanted to meet donors over dinner because national political candidates spend too much time at fancy fundraisers with the
well-to-do, closed off from hearing the concerns and needs of ordinary people.
Coincidentally, Thursday's dinner was scheduled a day after Obama returned from a three-day fundraising swing through Nevada, California and Colorado. He headlined six fundraisers, including at the Bellagio hotel in Las Vegas and the Hollywood home of actors Melanie Griffith and Antonio Banderas. The trip also included stops where Obama met everyday people, including at Roscoe's, a popular chicken restaurant chain in Los Angeles.
Two months ago, Obama had lunch on Capitol Hill with a group of campaign volunteers who were selected based on essays they wrote about organizing. Obama got his start in politics by working as a community organizer in Chicago.
Copyright AP - Associated Press