The biggest fans study the competitors' records for hours, analyzing their statistics and looking for some indication of who has what it takes to be the big winner.
The winner, that is, of the Scripps National Spelling Bee.
One group of die-hard fans of the spelling bee has created a fantasy sports-style draft to track the young spellers, following the event with the same fervor as sports fans watch their teams.
Another group will watch the competition Wednesday and Thursday using an elaborate point system that recognizes if the winning speller has glasses, braces or a faint mustache.
[NATL] 10 Years of Spelling Bee Champions
"It gets you hooked in the same way a really good movie or a big sporting event would," said Katie Twyman. "It's this combination of charming and sweet and surprisingly intense."
She and a group of 12 internet friends who live across the country are keeping a close eye on a shared spreadsheet as they watch the four rounds of the bee, which started in National Harbor, Maryland, Wednesday morning and will conclude live on ESPN in prime time Thursday.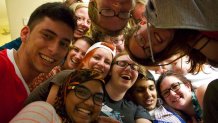 Last week, Twyman's group used a random list generator to determine the draft order in which they could pick the spellers on their teams. Each person has a team of seven.
Local
Washington, D.C., Maryland and Virginia local news, events and information
The trash-talking can get heated.
"We get really competitive about it," Twyman said from her home in Minneapolis.
To pick her dream team of spellers, Twyman, a 25-year-old college student, studied how the children performed in previous bees and if they have siblings who competed. If a sibling did well, the speller's family may have a good studying method in place, she said.
Then, the scoring awards points for each round a speller passes, and for the number of points each speller earns.

The group has used variations of their draft system for the past five years after they met in a Harry Potter YouTube community in 2009.
As Twyman and friends watch the finals "together" Thursday night via video call, they'll play a drinking game that celebrates spelling bee tropes.
If a speller ignores a joke by official spelling bee pronouncer Dr. Jacques Bailly, drink.
If a speller walks off before hearing the correct spelling of a word, drink.
If a speller dabs, drink.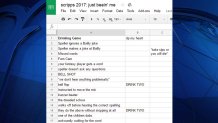 Bee officials introduced an app called Buzzworthy two years ago to let fans compete with friends. The competition was fierce.
But the app is not available this year. A bee spokeswoman said officials are looking at technology for "competition viewing" next year.
A family outside Washington, D.C. also created a point system for watching the bee. Six members of the Shelton family have guesses in for who will win the bee, plus the length of the winning word, the origin of the winning word, whether the winner will have a "prepubescent moustache" and more.
"It's a really sweet thing to get into," Lindsay Shelton-Gross said. "I love that I'm supporting something that's intellectually based, and the kids are great."
The Shelton family's system awards 25 points for guessing the winner flat out, 10 points for guessing his or her gender and 5 points for guessing whether he or she has braces.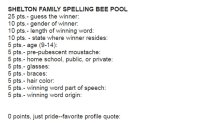 Shelton-Gross, an Arlington, Virginia resident who works in health care, said members of her family in Arlington; Loudoun County, Virginia and Chicago have tracked their picks for winner of the bee for the past 10 years.
"My brother and I have been obsessed," she said.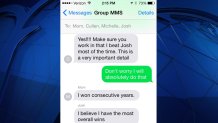 In both the Shelton family's game and the internet friends' game, the big prize is bragging rights.
Just like how watching a sport won't guarantee you'll be a better athlete, watching the spelling bee for all these years is not necessarily making these superfans world-class spellers.
"We can usually keep up until the semifinals, but then the words are way over our heads," Twyman said.[[425374524,C]]