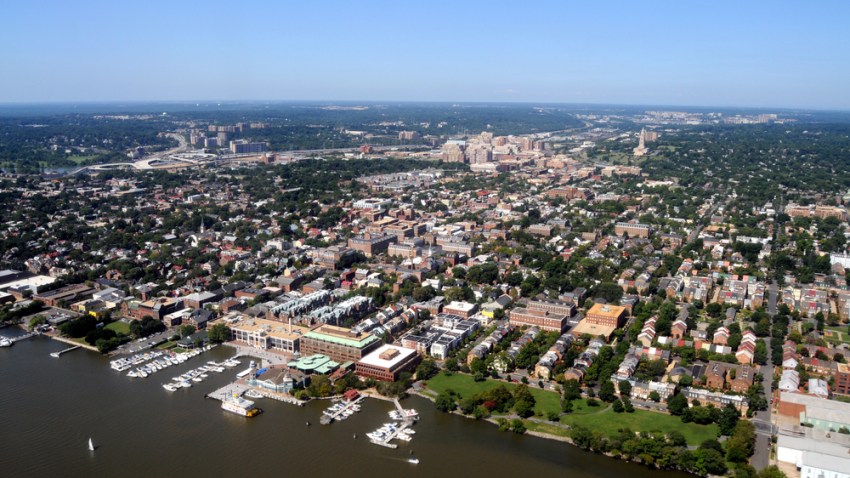 The waterfront in Old Town Alexandria is about to get a makeover, and developers have already started making plans.
Walk into the Art League Madison Annex at Duke and Union Streets, and you're confronted with colorful murals and a series of classrooms where artists teach their craft. But as Art League director Linda Hafer explains, the landlord says that's about to become a thing of the past because a developer has other plans for the site.
"It's keeping us up at night because, in terms of finding affordable space here, it's quite a challenge," Hafer said.
The warehouse is one of three spots on the waterfront where city leaders want to allow hotels and increase density. Business groups support the move, but many Old Town residents oppose the plan. One of the opponents is Boyd Walker, chairman of the Greater Alexandria Preservation Alliance.
"Should a private land owner be able to do what they want? Well, my answer is that there's zoning and that we regulate what we want in our communities by zoning," Walker said.
The small-area plan currently under consideration would increase allowable density on this block by more than 62,000 square feet. Critics say that's too much density.
But supporters of the plan, like former City Councilman Lonnie Rich, say adding density is a way for the city to pay for amenities.
"Well, you want to get the right density to produce the effect you need," Rich said. "If the current density won't allow sufficient activity to make it be successful, then it's reasonable to consider increased density."
Many residents in Old Town say they are concerned about the increased amount of foot traffic along the waterfront -- the same thing that Virginia shop owner Bob Lorenson says is the reason City Council members should approve the plan.
"People moved here knowing this was a touristy town," Lorenson said. "And it's like people who move next to the airport and complain about the noise. I don't get it. I just don't get it."
City Council members are expected to vote on the plan this month.
Listen to the complete story at wamu.org
Copyright 2011 WAMU 88.5 - American University Radio. All Rights Reserved.
Copyright WAMUo - WAMU