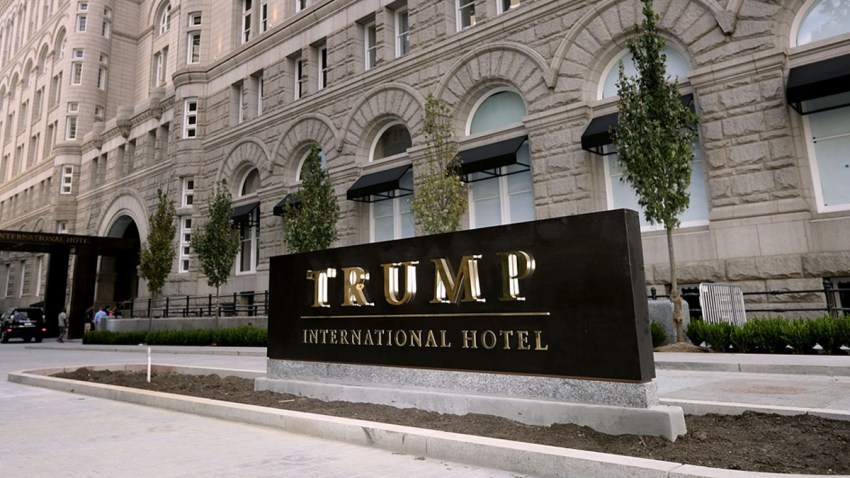 The government says Donald Trump must divest all financial interests in his splashy new Washington hotel or be in breach of his lease the moment he becomes president next month, House Democrats said Wednesday.
An official from the U.S. General Services Administration, which holds the lease on the Trump International Hotel, said in a Dec. 8 briefing to members of Congress that "Mr. Trump must divest himself not only of managerial control, but of all ownership interest as well," the top Democrats on the House oversight and transportation committees said in a letter they made public.
The letter suggests the government concurs with experts who say Trump's lease requires him to give up his stake in the newly opened hotel on Pennsylvania Avenue.
The GSA released a statement saying it does not have a position on Trump divesting his financial interests.
"We can make no definitive statement at this time about what would constitute a breach of the agreement, and to do so now would be premature," the statement reads. "In fact, no determination regarding the Old Post Office can be completed until the full circumstances surrounding the President-elect's business arrangements have been finalized and he has assumed office."
Trump advisers told reporters Wednesday Trump will hold a news conference in January to discuss the matter, but they otherwise refused comment.
Government ethics experts have been urging Trump to follow the precedent of most recent presidents by selling off his holdings and putting the money in a blind trust overseen by a manager without ties to him. Trump tweeted Monday that he plans to hand managerial control of his business to two of his children along with executives, leaving open the possibility that he will retain his ownership stake.
Divesting could present difficulties and take time. The Trump Organization has interests in about 500 companies around the world, though many appear to be companies set up for legal and tax purposes with little business operations. In addition to hotels, Trump has interests in resorts, golf clubs, office and retail space and residential buildings. Many properties are not owned by him but bear his name under licensing deals.
The Trump Organization won the right to lease the Old Post Office building on Pennsylvania Avenue in 2012, beating out several groups. Trump and the GSA took more than a year to hammer out a 60-year lease for its use.
At issue are 43 words of the lease's clause 37.19 on top of page 103, which has been interpreted by some experts on government contracting law -- and Trump critics -- to force the president-elect to unload his equity stake in the government-owned building near the White House. The document's key part: No "elected official of the Government of the United States" shall be "admitted to any share or part of this Lease."
The GSA has concluded that means Trump must dump all of his financial interest before he takes office Jan. 20, according to the House Democrats.
The Democrats wrote to GSA Administrator Denise Roth that Ivanka Trump, the president-elect's daughter, has been the chief contact for the agency and this raises "obvious" conflicts of interest.
The hotel has been a focus of criticism by government ethics experts. In addition to any breach of the lease, they worry that foreign governments will try to curry favor with the president-elect by booking rooms for their officials and hosting events there.
Copyright AP - Associated Press