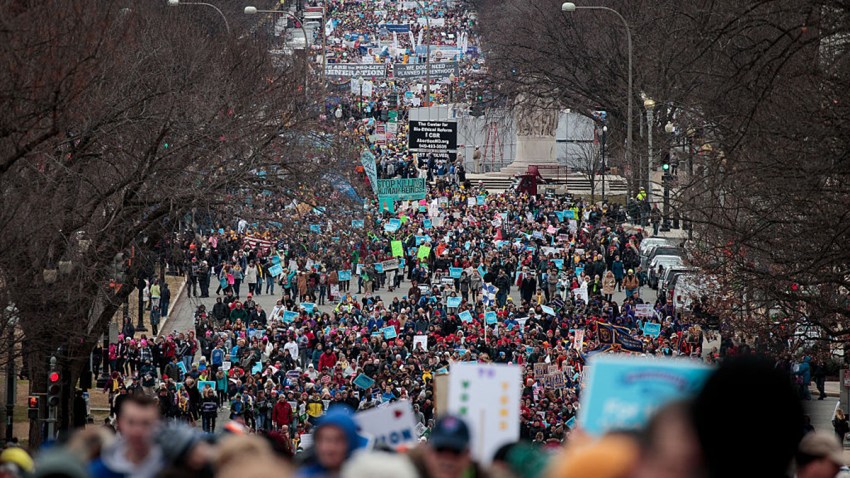 Vice President Mike Pence addressed a crowd of abortion opponents Friday at the annual March for Life, reassuring them "life is winning" because of the election of President Donald Trump.
The March for Life is held every year in Washington to mark the anniversary of the 1973 Supreme Court decision legalizing abortion. While no official crowd estimates were available, the turnout was clearly larger than in recent years, when abortion opponents had less political clout. Many thousands huddled in the shadow of the Washington Monument and stood in long lines outside security checkpoints made necessary by Pence's appearance.
"We've come to a historic moment in the cause for life," said Pence, the first vice president to address the rally. "Life is winning in America."
Pence said ending taxpayer-funded abortion and choosing a Supreme Court justice in the mold of the late Antonin Scalia -- a conservative Catholic who opposed abortion -- are among the administration's most important goals.
"President Trump asked me to be here with you today," Pence told the crowd. "He asked me to thank you for your support."
Trump used his Twitter account to express support for marchers.
"The #MarchForLife is so important. To all of you marching --- you have my full support!" Trump tweeted.
For the first time in years, abortion opponents had political momentum at their annual rally Friday on the National Mall. Pence was the first vice president to address the march, which is in its 44th year.
Trump adviser Kellyanne Conway also spoke to the crowd and highlighted the administration's anti-abortion agenda.
"Steps away from here in the White House, a president and vice president sit at their desks and make decisions for a nation," she said. "As they sit there, they stand here with you."
[[411995795, C]]
Crowds showed up early for the event, which kicked off at 11:45 a.m. with a musical opening before a rally and march. More than an hour before the start time, marchers packed the space in front of the stage, many bearing signs and already cheering.
"It seemed like it was a standstill," said attendee Kathie Henderson before the event Friday morning. "I thought it was, 'Where are we going to go?' but now, I think we have hope."
Glenn Miller, a 60-year-old cabinet maker from Coventry, Connecticut, said this was his fourth march, and that it was easily the most enthusiastic. He said Trump has given a voice to those who oppose abortion and that the previous administration "didn't care."
He said he voted for Trump reluctantly because he didn't feel like he had a choice. He says he's been encouraged by the administration's actions on abortion so far.
"To have the support that we're having from the executive branch of our government is just indescribable, really," said attendee Liz Vallespir. "The march has been going on for so many years."
TURNOUT VISIBLY LARGER THAN IN PAST YEARS; PLANNERS EXPECTED 50,000 TO ATTEND BUT TRUMP VOWED MORE
Organizers told the National Park Service in their permit application they expected 50,000 participants.
"There's been a lot of talk about numbers this past week," Mancini said. "It's hard to add up so many numbers after 44 years because there have been a lot of us."
Mancini added that the most important number for marchers was 58 million, an estimate for the number of abortions performed in the United States since 1973.
However, Trump insisted on the eve of the rally that the crowd would be far larger than 50,000, saying "a lot of people are gonna be showing up."
"You know, the press never gives them the credit that they deserve," Trump told Republicans gathered in Philadelphia. "They'll have 300, 400, 500, 600 thousand people. You won't even read about it. When other people show up, you read big-time about it. Right? So, it's not fair, but nothing fair about the media."
Friday's march arrived less than a week after one of the largest mass demonstrations in the city's history, the Women's March on Washington, which drew more than half a million people opposed to Trump on issues including abortion.
The event began with a musical opening, followed by a series of speakers that most notably included Pence. Attendeees then marched down Constitution Avenue on their way to the Supreme Court and the U.S. Capitol, many bearing signs and matching hats while chanting, cheering and waving to cameras.
They were scheduled to give "Silent No More" testimonies outside the Supreme Court before going to visit their members of Congress to advocate for anti-abortion legislation.
A CHANGING POLITICAL LANDSCAPE
[[411995795, C]]
One of Trump's first official acts after taking office a week ago was to sign an executive order banning U.S. aid to foreign groups that provide abortions.
In Congress, Republican majorities in both chambers are vowing to end federal funding for Planned Parenthood, which provided more than a third of the nation's abortions in 2014. They also hope to ban most abortions after 20 weeks of pregnancy. Trump has pledged to sign both measures if they reach his desk.
Less than a year ago, with Barack Obama's second term winding down, things were markedly different. The Supreme Court struck down Texas' strict regulations on abortion clinics as interfering with a woman's constitutional right to terminate a pregnancy. And with polls at the time suggesting Hillary Clinton would likely defeat Trump, abortion opponents worried about an era of liberal majorities on the court.
"The horizon looked bleak for the pro-life movement," said Jeanne Mancini, president of the March for Life.
Mancini suggested that many voters chose Trump largely because he pledged to appoint a Supreme Court justice who shared their views on abortion, even if they disagreed with him on other issues.
"I don't identify as a Republican or a Democrat but I do vote pro-life," Mancini said.
Abortion opponents also were heartened by a recent study that found the number of abortions in the United States dropped under 1 million in 2014, the lowest total in 40 years. The report by the Guttmacher Institute, which supports abortion rights, credited increased access to birth control but also a surge in abortion restrictions in many states.
Americans remain deeply divided on abortion.
The latest Gallup survey, released last spring, found that 47 percent of Americans described themselves as pro-choice and 46 percent as pro-life. It also found that 79 percent believed abortion should be legal in either some or all circumstances.
Ilyse Hogue, president of NARAL Pro-Choice America, said that poll shows why abortion-rights supporters shouldn't despair. She also said Republicans were taking actions that would result in more illegal abortions and deaths of pregnant women.
"The vast majority of Americans support Roe v. Wade and support the legal right to abortion," Hogue said.
The March for Life is usually held on the anniversary of the 1973 Supreme Court decision -- Jan. 22 -- but it was pushed back this year because of Trump's inauguration.
Organizers of the march said on their website that the National Park Service assigned Jan. 27 as the next available date for their event.
Mancini said she had planned to participate in the Women's March until organizers dropped an anti-abortion group as an official partner. She said its failure to embrace different views on abortion was a missed opportunity.
The March for Life routinely draws thousands, even in harsh weather. Last year's was held in a blizzard that dumped nearly 2 feet of snow on the nation's capital.
SPEAKERS INCLUDED PENCE, CARDINAL DOLAN:
Vice President Mike Pence
Kellyanne Conway, Senior Counselor to Trump
Cardinal Timothy Dolan of New York City
Benjamin Watson, Tight End for the Baltimore Ravens
Abby Johnson, Former Planned Parenthood Director and founder of "And Then There Were None"
Karyme Lozano, Mexican telenovela star
Eric Metaxas, Author and host of "The Eric Metaxas Show"
Bishop Vincent Mathews Jr., President at Church of God In Christ World Missions
Sen. Joni Ernst, R-Iowa
Rep. Mia Love, R-Utah
Rep. Chris Smith, R-New Jersey
NBC Washington's Megan McGrath and Mark Segraves contributed to this report.
Copyright AP - Associated Press