The man arrested in connection to the death of a D.C. yoga instructor gave police the keys to her car after he was confronted in a CVS store Monday night, ending the hours-long search for the woman who disappeared on Christmas Day, a police report reveals.
Tricia McCauley, 46, was found dead inside her car early Tuesday. D.C. police believe a man she did not know had been driving it.
McCauley was an actress who was lead teacher at Yoga District's Bloomingdale location and also a licensed nutritionist.
Friends admired her kindness, Yoga District founder Jasmine Chehrazi said.
"Tricia was a very strong leader and at the same time a very gentle, compassionate, nurturing person," Chehrazi said. "She basically embodied the teachings of yoga, which start with ahimsa, which is nonviolence and acts of love."
The search for McCauley began the day after Christmas, after she failed to show up to Christmas dinner at a friend's house and then missed a flight out of Ronald Reagan National Airport on Monday morning, her brother and friends said.
Police said McCauley was last seen at her home in Bloomingdale, on North Capitol Street NE at 4:30 p.m. Christmas Day.
In the hours following her disappearance, police released a photo of a man they said may have been driving McCauley's car, a white, two-door Scion IQ with D.C. plates.
A man who saw the photos police released online called police when he spotted McCauley's car. Jonathan Padget came face to face with the suspect near 21st and P streets, he said.
"I definitely was aware that this could be a dangerous situation," he said. "I just felt at that moment that i had a job to do."
Padget, who said he has friends who knew McCauley, said he spoke to the man and then called for help. The suspect's behavior seemed off, he said.
"He was moving around a lot, and he was smoking something," Padget said.
Police confronted the suspect inside a nearby CVS, and he gave them the car keys.
When the officers searched the car, they found McCauley's body. Police have not said how McCauley died. She suffered trauma, Interim Police Chief Peter Newsham said.
Police believe the suspect and McCauley did not know one another.
While police have not released the suspect's name, Newsham said investigators need the public's help figuring out his whereabouts in the last hours of McCauley's life.
"We have a timeline that we would like the public to pay particular attention to," Newsham said at a news conference Tuesday.
View Suspect's Locations in Yoga Teacher's Death in a full screen map
Police believe the suspect was in the following locations on Monday:
12:30 a.m. to 3:30 a.m. - Suspect was on the 3400 block of Georgia Avenue NW.
8 a.m. to 8:30 a.m. - Suspect was on the 400 block of Massachusetts Avenue NW.
9:15 a.m. to 9:30 a.m. - Suspect and the victim's vehicle were spotted on the 700 block of 14th Street NW. There, police say the suspect robbed a CVS and assaulted the employees.
11 a.m. - 11:50 a.m. - Suspect was on the 2300 block of Washington Place NE.
1:15 p.m. to 1:35 p.m. - Suspect was on the 400 block of Rhode Island Avenue NE.
2 p.m. to 2:20 p.m. - Suspect was on 2800 block of 7th Street NE.
"If anyone has any information or saw the suspect at any of these location at these times, we'd appreciate if they'd give us a call," Newsham said.
An employee at the CVS store where the suspect is accused of attacking employees said she knew something was strange about the man the moment he walked in. He began filling a basket with soap and then became confrontational when a manager asked if he needed help.
When the employee began to call 911 upon her manager's request, the man assaulted her and tried to grab the phone out of her hand, she said. He left the store before police arrived. The employee declined to provide her name.
D.C. Mayor Muriel Bowser spoke at the news conference Tuesday.
"Let me express on behalf of all of us in Washington, D.C. our deepest condolences to her family," she said.
McCauley's family announced her death on Facebook earlier in the day.
The Facebook post thanked her "D.C. family" for their work in searching for McCauley and for their support and love through the years.
"Hang on to each other," it read.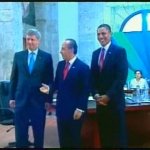 McCauley's professional website includes a long list of acting credits, including with the Washington Stage Guild. She played Anna Karenina and acted in a Kennedy Center national tour, the website says. She also appeared in commercials and did voiceover work.
She graduated from American University in 1992 with a degree in theater, her LinkedIn page says.
McCauley would have taught a 5:15 p.m. yoga class Tuesday night. In its place, the studio will hold a vigil in her honor. It will be followed by a candlelit procession to the park at 3rd and Elm streets NW.
Three days before McCauley vanished, she emailed Chehrazi, who trained her as a yoga instructor, to thank her.
"She just put in big capital letters, 'thank you for the Yoga District community,'" Chehrazi said. "She didn't have to do that, but she did that because that's the type of person Tricia is."
Chehrazi said she believes McCauley would want her work as a yoga practitioner to live on.
"I know she would want us to keep breathing and keep working to find inner peace to help foster outer peace throughout the world," she said.
Stay with News4 and NBCWashington.com for updates to this developing story.