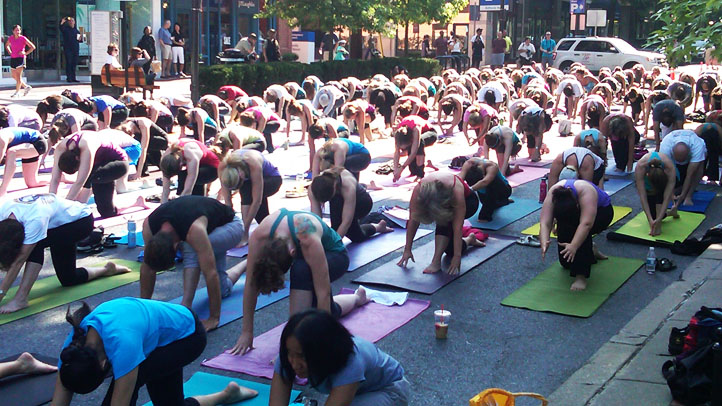 Over a hundred gathered in Bethesda on Saturday morning in a celebration of murdered employee Jayna Murray.

Saturday morning's mass yoga demonstration, which took place on the public promenade across from the Bethesda Lululemon store, began with a moment of silence.

Three months ago, the community grieved after learning of the death of 30-year-old Jayna Murray inside the yoga athletic wear store. A week later, there was further shock when police arrested her coworker, Brittany Norwood for homicide. Norwood had originally told investigators a story about two masked men perpetrating the crime, police said, which unraveled after forensic evidence did not support her account.

On Friday, the store that became a crime scene reopened to the public, rededicated, the company says, to Murray and "the theme of love."

Jayna Murray's father, David, visited the store during the reopening. ""Walking into the store was difficult," he said. "But for me personally, I felt that Jayna was right there with me."

The group yoga will take place in Bethesda throughout the morning, accompanied by live music. Above the entrance to the reopened store, a new stained-glass window is emblazoned with the word "Love."