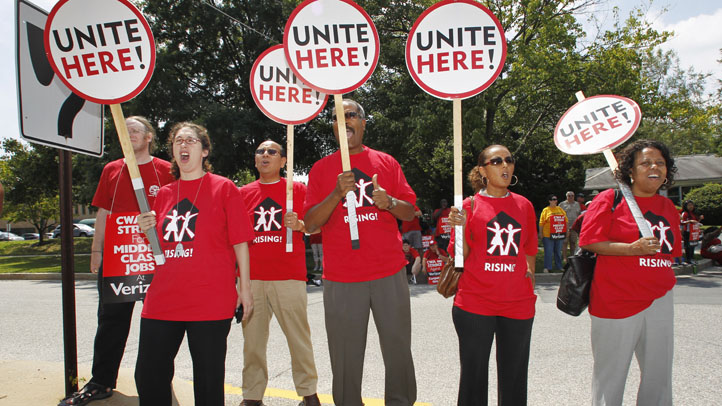 After an acrimonious two-week work stoppage, unionized Verizon employees will return to their posts on Monday, without a new labor agreement.
Both sides said continuing discussions had brought the parties close enough to a new deal to end the strike that started on August 7.
"The major issues remain to be discussed, but overall, issues now are focused and narrowed,'' the Communications Workers of America and the International Brotherhood of Electrical Workers said in a statement.

Verizon maintained that the missing 45,000 unionized employees, who worked on the landline portion of the company's business, did not adversely affect day-to-day service.

"The fortitude and efforts of our managers have proven to be our strongest point of leverage in bargaining," Verizon said in a statement. "We are pleased that during this stressful economic period our union-represented employees will be back at work earning good wages and benefits while serving our customers."

The strike was precipitated after management and labor failed to reach a compromise on sharing the cost of health benefits before the workers' contract ran out on August 6. Verizon also wanted to freeze benefits, which workers said the company was profitable enough to cover.

Over the past few weeks, Verizon has accused striking union employees of sabotaging fiber optic cable and other communication infrastructure. Verizon said a number of these sabotage incidents took place within Washington D.C.

Verizon said it would quickly address any backlog in repairs caused by labor action.
Copyright AP - Associated Press