The rate of new HIV diagnoses in D.C. has dropped for the eighth year in a row, but with more than 13,000 residents living with the virus, the rate in the District still is considered an epidemic.
On World AIDS Day on Thursday, D.C. Mayor Muriel Bowser and the health department announced a new effort to diagnosis HIV, to treat people living with the virus and to prevent transmission.
The 90/90/90/50 Plan calls for 90 percent of D.C. residents with HIV to know their status, 90 percent of people with HIV to be in treatment, 90 percent of people with HIV to achieve suppression of the virus, and a 50 percent decrease in the number of new infections.
Experts say the 90/90/90/50 Plan is new in its emphasis on preventative drugs, its consideration of the needs of transgender residents and its consideration of factors like housing that affect health.
The plan is the result of cooperation with patients and health care providers, D.C. Department of Health Director LaQuandra Nesbitt said.
"We're thinking very creatively about being patient- and person-centered as opposed to being -- how shall we say? -- bureaucratic-centric," she said at a news conference Thursday morning.
Local
Washington, D.C., Maryland and Virginia local news, events and information
One of the biggest updates to how D.C. helps prevent HIV is the city's promotion of pre-exposure prophylaxis, or PrEP. The District has made PrEP starter packs available at the D.C. Health and Wellness Center on P Street NE, and a public education campaign is underway, with posters all over the city encouraging women to look into the drugs.
D.C. is one of the first cities in the country with a plan to encourage women to start PrEP, Whitman-Walker Health Director of Community Research Megan Coleman said. She worked with D.C. officials and health organizations on developing the new HIV plan.
"D.C. is really on the forefront of PrEP for women," she said.
Addressing the needs of transgender people also distinguishes the plan to respond to HIV.
"It's exciting to see an increased focus on the trans community," said David Mariner, the executive director of The DC Center for the LGBT Community.
Of 13,391 people living with HIV in D.C. as of Dec. 2015, 260 of these people were transgender, according to the health department. Black transgender people made up more than 83 percent of these cases.
The DC Trans Coalition estimated that the proportion of transgender D.C. residents with HIV is much higher. A full 20 percent of participants in a survey of 521 people who live in the D.C. area told the organization they were HIV-positive.
Mariner pointed out that city officials said they would take a holistic view of the treatment and prevention of HIV; if social service providers can connect residents with stable employment and housing, they can help increase the chances that residents with HIV will stay on their medications, for example.
According to the latest D.C. data, the HIV diagnosis rate in D.C. is down from 1,333 cases in 2007 to 371 cases in 2015, marking a 72 percent decline.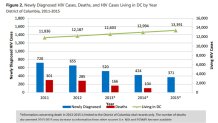 (Go here to see a larger version of this chart)
D.C. had a higher rate of diagnosis of HIV than any state in 2014 and 2015, according to the Centers for Disease Control and Prevention.
About 2 percent of the city's population has been diagnosed with the virus, far surpassing the generally accepted definition of an epidemic, 1 percent. Nearly 5 percent of African-American men and nearly 2 percent of African-American women in D.C. have HIV, the health department found.
The largest proportion of cases diagnosed in D.C. between 2011 and 2015 were among black men who have sex with men, and black men who have sex with men and also are injection drug users. That group made up 25 percent of cases.
Black heterosexual women made up the second largest group of people with newly diagnosed cases, at 15 percent.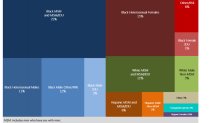 (Go here to see a larger version of this chart)
"Infection rates are disproportionately affected by race, locality and ward," Coleman said. "Unfortunately, the disease burden is heavier on African-American men and women."
More cases of HIV were diagnosed in Ward 5, Ward 6 and Ward 7 of the District from 2011 to 2015 than elsewhere in the city.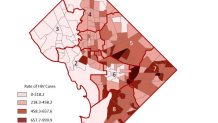 (Go here to see a larger version of this map)
Now that D.C. has a new plan in place to respond to HIV, the focus turns to implementing it, Mariner said.
"It's going to take all of us working together to make this a reality," he said.