D.C. will be ready to gradually reopen starting next week if coronavirus case numbers and other data continue to show improvements, the mayor says.
Mayor Muriel Bowser said the start of a phased reopening appears possible on May 29. Reopening will be gradual, she said at a news conference Thursday morning.
"It is not an on-and-off switch. We will not be able to go back to life as we enjoyed it in February," Bowser said.
D.C. has now seen 11 consecutive days of declined community spread of the virus. Bowser and health officials have said they must see 14 days of this trend to lift the stay-at-home order, in addition to hitting other goals. The stay-at-home order is not set to expire until June 8.
There was bad news for kids and anyone eager to go for a swim in a city pool: The mayor said she does not expect to be able to open pools until late summer at best.
"It is just too difficult to be able to insure social distancing around our pools," Bowser said.
A group advising D.C. officials and how — but not when — to reopen the District in the wake of the coronavirus crisis laid out a four-stage plan on Thursday.
Local
Washington, D.C., Maryland and Virginia local news, events and information
The ReOpen DC Advisory Group, led by former Secretary of Homeland Security Michael Chertoff and former National Security Advisor Susan Rice, recommended that D.C. reopen in stages guided by what health data shows. The plan is a recommendation that the District has not yet agreed to fully implement.
Under stage one, gatherings of up to 10 people would be allowed, working remotely would be strongly recommended and travel would be discouraged.
As health data indicates improvements, D.C. would gradually allow larger groups of people, advise people to head back to workplaces and allow more travel.
Parks would be reopened under stage one. Indoor dining would be allowed under stage two. Pools would be reopened under stage three. And stage four would bring a "new normal."
The "new normal" of stage four will not begin until there's a vaccine or cure for the virus, the advisory group's recommendations say. That means D.C. residents should get used to restrictions for the remainder of 2020, if not longer.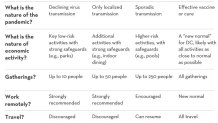 Under stage one, hotels could reopen. Restaurants could use outdoor seating. Nonessential stores could offer curbside and delivery service. Hair salons and barber shops could reopen. Bars and nightclubs would remain closed.
Child care facilities would be limited to 10 people per room under stage one. Public schools would continue distance learning. Universities and colleges would have limited on-campus activities. Museums would remain closed. And libraries could begin providing curbside service.
The advisory group received more than 17,000 responses to a survey on reopening, interviewed more than 100 community and business leaders, and held 45 focus groups, Chertoff said as he and Rice participated in the news conference via video call.
Eighty-five percent of respondents said they agree with D.C.'s stay-at-home order. Nearly two-thirds of people supported a phased reopening. And more than 80% expressed concern for vulnerable communities.
Chertoff and Rice were expected to add expertise, experience and a global perspective to the group, the mayor said on April 27, when she announced their roles.
"These are people who are used to getting things done," she said.
Other members of the group include former mayors Adrian Fenty and Anthony Williams.
The recommendations limit gatherings in stage three to only 250 people. To get to stage three, there can only be sporadic transmission of the virus. The mayor said it's unlikely that we will get there this summer.
The mayor was asked about the Fourth of July and a possible inauguration. She said she would work with federal officials but her priority is keeping D.C. safe. If President Donald Trump opts for fireworks on July 4 and D.C. has not begun phase four, there could be a showdown.
Bowser is expected to give businesses some guidance on Friday. She said she'll have an update Tuesday on reopening plans.
Stay with NBC Washington for more details on this developing story.