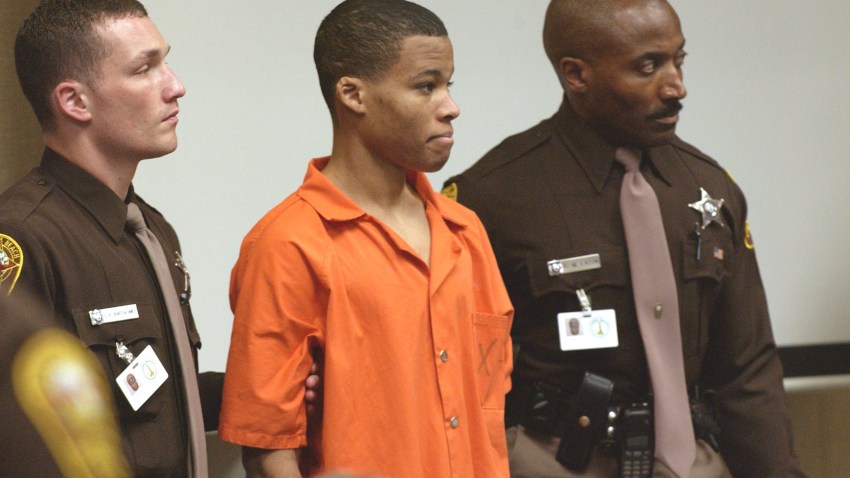 Attorneys for convicted sniper Lee Boyd Malvo are asking federal judges in Virginia and Maryland to vacate his 10 life sentences for the shootings that terrorized the Washington, D.C., area for three weeks in 2002.

In petitions filed earlier this week, attorneys argue a 2012 U.S. Supreme Court decision that blocked mandatory sentences of life without parole for juveniles should be applied retroactively to Malvo.
The justices ruled last year in an Alabama case that mandatory terms of life without parole for those under age 18 at the time of their crimes violates the Eighth Amendment's prohibition against cruel and unusual punishment.

Malvo was four months shy of his 18th birthday when he and John Allen Muhammad gunned down 13 people in the District of Columbia, Maryland and Virginia, killing 10. The pair paralyzed the nation's capital as they shot people at random -- at gas stations, shopping malls, going to school. They used a high-powered rifle, firing from the trunk of a modified Chevy Caprice until they were apprehended at a Maryland rest stop.

Malvo and Muhammad also have been linked to shootings in Alabama, Georgia, Louisiana and Washington state.

Muhammad was sentenced to death and executed by lethal injection in Virginia in 2009. Because he was a juvenile, Malvo received life without parole sentences in separate trials in Maryland and Virginia.

Malvo is being held at Red Onion State Prison in southwest Virginia.

The petitions to toss out the sentences were filed in U.S. District Courts in Charlottesville, Va., and Greenbelt, Md.

Malvo's lawyers, Craig S. Cooley in Virginia and William C. Brennan Jr. in Maryland, and a spokesman for Virginia Attorney General Kenneth Cuccinelli did not immediately respond to messages seeking further comment.

Alan Brody, a spokesman for Maryland Attorney General Douglas F. Gansler, said attorneys there had not seen the petition and couldn't comment.
However, Gansler said shortly after last year's Supreme Court ruling in the Alabama case that Malvo's six life sentences in that state would not be affected because unlike the Virginia sentences, they were not mandatory.
Copyright AP - Associated Press