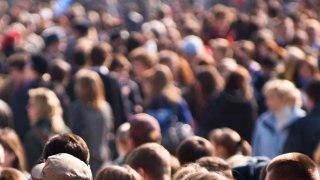 Washington, D.C., officials recommend that all "non-essential mass gatherings" be canceled or rescheduled amid efforts to limit the effects of the coronavirus.
"DC Health recommends that non-essential mass gatherings, including conferences and conventions, be postponed or canceled," says an advisory from DC Health, sent Wednesday afternoon by the mayor's office.
The advisory defined mass gatherings as those where "1,000 or more people congregate in a specific location."
"We also recommend that any social, cultural, or entertainment events where large crowds are anticipated be reconsidered by the organizer. This recommendation is in effect through March 31," the message continued.
The St. Patrick's Parade that was scheduled for Sunday has been canceled, organizers said earlier Wednesday. It will be rescheduled for a later date.
Information on other specific events was not immediately released.
The Washington Nationals released a statement Wednesday regarding their Exhibition Game on March 26. It said they are aware of the recommendations issued today but no decision has been made at this time regarding potential cancellation.
Local
Washington, D.C., Maryland and Virginia local news, events and information
The DC Defenders game scheduled for Sunday at Audi Field has not yet been postponed according to a statement.
"As of now, our game is still scheduled to take place as planned. We understand this situation is evolving and the league is monitoring all developments daily," said a DC Defenders spokesperson.
Monumental Sports, the company that owns the Washington Wizards and the Washington Capitals released a statement Wednesday saying games will be held according to schedule.
"At the current direction of the NBA and NHL, our games will go on as scheduled and be open to spectators. We are in constant contact with both leagues and should they update their guidance, we will update the public accordingly," a Monumental Sports spokesperson said.
Events DC released a statement Wednesday regarding their next steps as a result of DC's recommendations.
"Out of an abundance of caution to its staff, their families and customers, Events DC will suspend operations and services at the end of business on March 13 until March 31," the statement said.
Events DC will resume full operations on April 1 and in the meantime conduct a deep cleaning of its indoor venues and office locations.
The mayor said Monday that she was considering declaring a state of emergency for the District.
The Centers for Disease Control and Prevention recommends that you avoid crowds if you are at higher risk of contracting the virus because of age or medical conditions.
"Avoid crowds, especially in poorly ventilated spaces. Your risk of exposure to respiratory viruses like COVID-19 may increase in crowded, closed-in settings with little air circulation if there are people in the crowd who are sick," the CDC website says.
Stay with News4 for more details on this developing story.