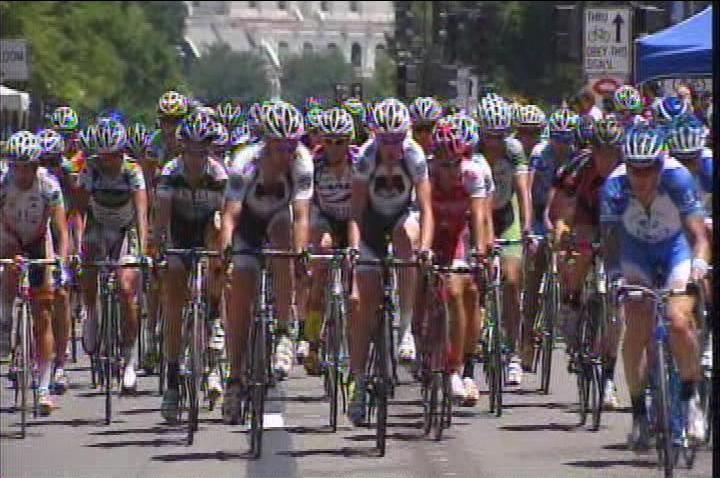 What a beautiful day for a bike ride! Though anyone glancing at the mass of bicycles jockeying for positioning on Pennsylvania Avenue Sunday would recognize that it was no ordinary day for cycling enthusiasts in Washington.
The blur of jerseys and spinning spokes was part of the 2010 Capital Criterium. Serious professionals raced for cash prizes. Children, as young as three-years-old, pedaled as fast as they could simply for the fun and glory of it all.
All those laps through downtown D.C. had a bigger goal: to bring one of the world's biggest cycling races to the nation's capital. Organizers of the CapCrit hope that Washington will be chosen to host the opening stages of the Giro d'Italia. The Italian even is second only in popularity to the Tour de France.
Some celebrities made an appearance to help promote the cause. D.C. Mayor Adrian Fenty, Congresswoman Eleanor Holmes Norton and Italian Ambassador Giulio Terzi were among those competing in a celebrity charity race.
The main event of the CapCrit was the Men's Professional Invitational. Some of the fastest men on two non-motorized wheels competed for about $15,000 in prizes. First place went to Jackie Simes who sped through the 60 laps in a time of 1:47:05. Second place went to Bobby Lea and third went to Frank Travieso.
There were also separate races for serious amateurs.
Four races were held for kids. All those taking part were given free helmets, as well as instructions for their parents on the proper fit.
It wasn't all about the bike. The CapCrit also included live music, food and health/fitness and green exhibitors.
From the looks of Sunday's event, you can surely expect to see a whole lot of Italians around the National Mall in 2012.