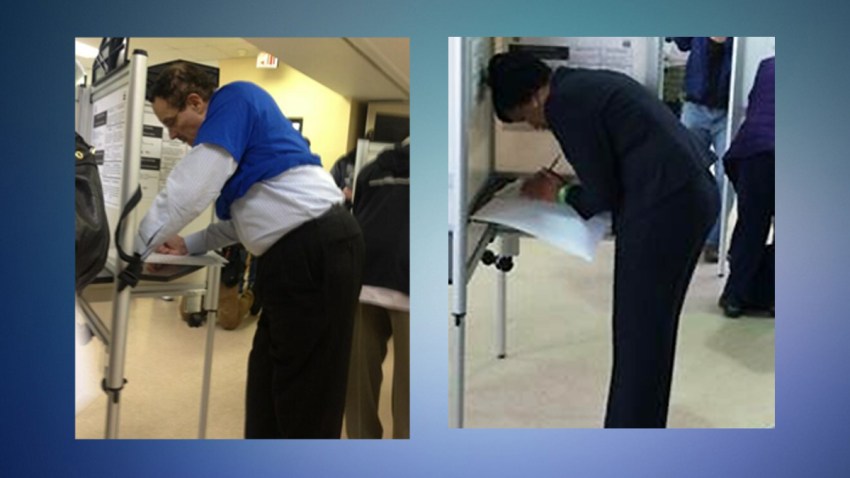 Democrats in the nation's capital decide Tuesday whether Mayor Vincent Gray should get a second term amid a federal investigation of his 2010 campaign.
Turnout was described as light but steady by many of the city's 143 precincts, News4's Tom Sherwood reports. About 14,000 voters previously cast ballots in two weeks of early voting, and almost another 1,700 absentee ballots were cast.
Polls closed at 8 p.m. No results have yet been reported.
Council member Muriel Bowser was the first mayoral candidate to cast her vote, arriving at LaSalle Elementary School just after polls opened Tuesday morning.
An NBC4/Marist poll published last week showed incumbent Mayor Vincent Gray in a statistical tie with Bowser, who has been advertising herself as a "fresh face" in D.C. politics.
Gray stopped by the northeast Washington school around the same time. He talked with voters and danced with volunteers.
Volunteers for his campaign stood outside the school chanting, "Four more years," while Bowser's camp yelled, "New mayor, fresh start."
Wearing a campaign shirt rolled halfway up his torso, Gray voted a few hours later at his polling location in Ward 7. The shirt was rolled up because candidates can't show campaign logos inside polling locations, News4's Melissa Mollet reported.
Other candidates out early included Ward 2 Council member Jack Evans and Ward 6 Council member Tommy Wells, both trailing in the polls and looking for an upset. Restaurant owner and newcomer candidate Andy Shallal voted as his campaign workers worked the polls. Also on the ballot are candidates Vincent Orange, Reta Jo Lewis and Carlos Allen.
Whoever pulls out a win Tuesday will face David Catania (I) in November's general election.
Aggie Wellington, 64, who has lived in the city for close to 40 years, said she is fairly happy with the direction of the city and voted for Gray.

"To be honest, I don't have any complaints,'' Wellington said at a polling station at William B. Powell Elementary School.

Wellington, an administrative assistant, said she was in between candidates and would like to see a woman mayor, but in the end voted for Gray.

"I don't mind giving him another chance,'' she said.

Zach Teutsch, 30, cast his vote for Wells. The federal worker said he voted for Gray in 2010 and was "disappointed not to be voting for him this time around.'' Teutsch said he believes Gray has "generally been a good mayor'' but is concerned that he has pledged to stay in office if indicted.

"I think it would be bad for the city,'' Teutsch said.
Five people involved with Gray's campaign four years ago have pleaded guilty to felonies. Three weeks ago, federal prosecutors said for the first time Gray knew about an illegal, $668,000 slush fund that helped him get elected in 2010.
All seven of his campaign opponents believe he knew about the shadow campaign.
The mayor has denied wrongdoing and has not been charged.
Gray is hoping for high turnout in less affluent parts of the city where he remains popular.
Bowser now inside to cast ballot. @News4Today @nbcwashington #decisiondc pic.twitter.com/wnHHQbI3po — Melissa Mollet (@melissamollet) April 1, 2014
FYI @mayorvincegray shirt rolled up because candidates cannot show campaign logo in polling place. @News4Today pic.twitter.com/BMYigbZTfD — Melissa Mollet (@melissamollet) April 1, 2014
The Associated Press contributed to this report.