Four D.C. police officers were placed on non-contact leave following a second night of protests over the death of a man fatally injured in a scooter crash after police tried to pull him over. His family blames officers for his death.
Karon Hylton-Brown, 20, died Monday, three days after the crash in the Brightwood Park neighborhood. He died the day his daughter turned three months old.
D.C. Mayor Muriel Bowser called his death a tragedy on Thursday and promised a thorough investigation but said it's too early to have much information.
D.C. police released on Thursday two redacted videos showing the body-worn camera footage captured by police officers involved. One video is about seven minutes long; the other, labeled a community briefing video, is about three minutes long.
We're making it easier for you to find stories that matter with our new newsletter — The 4Front. Sign up here and get news that is important for you to your inbox.
The community briefing video shows a split-screen of the passenger's and driver's view from one police car involved. The other video shows one longer view from the passenger.
Local
Washington, D.C., Maryland and Virginia local news, events and information
The passenger video begins at timestamp 10:09:36 p.m. and contains no audio until after the crash. It's unclear if that was the first moment police and Hylton-Brown encountered each other during the incident.
The video starts with officers in a police car driving near Hylton-Brown, who is riding a blue electric scooter.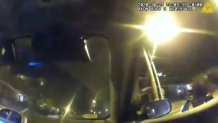 Hylton-Brown turns left, passing in front of the police car, then police turn to head in the same direction. The police lights flash on, then off, the video shows.
The police car turns again then illuminates the lights again. Police turned several times, eventually following Hylton-Brown into an alley between Jefferson Street NW and Kennedy Street NW, the video shows.
The police lights turn off in the alley, but the police car remains behind Hylton-Brown.
The scooter rider travels onto Kennedy Street NW and is hit by a car, the video shows. The timestamp indicated it was about 10:11:32 p.m.
The body camera video shows two officers exit the police car, then audio can be heard.
One officer says, "Hey, Karon." The same officer appears to direct other officers to turn Hylton-Brown on his side.
Over the next several minutes, video shows several police cars, officers and some apparent bystanders come to the crash site. The body-worn camera footage released by police cuts off at 10:16 p.m.
Body-worn camera footage from both the driver and the passenger view show those officers asking the people in the striking car if they are OK. They responded affirmatively. One view shows their windshield badly damaged.
Bowser said police were following the scooter that Hylton-Brown was riding, despite policies against chasing.
"We have very clear policies about no chasing. It should be obvious by now. Why? Because chases can be dangerous," she said.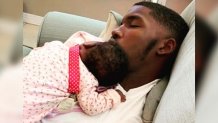 All four officers put on leave were involved in the police pursuit of Hylton-Brown.
D.C. Police Chief Peter Newsham refused to say whether the pursuit of Hylton-Brown has justified or not. He said he didn't know why officers were trying to stop the rider.
Police previously issued a statement saying officers were trying to stop Hylton-Brown for not wearing a helmet.
The case will be reviewed by the U.S. Attorney's Office then handed back to MPD for further investigation, Newsham said.
The police car that followed Hylton-Brown did not strike him, Newsham said. Police have said that Hylton-Brown crashed with a civilian's car, which body-worn camera video corroborates.
Before the release of the body camera footage, Hylton-Brown's mother, Karen Hylton, said she saw dashboard camera footage but wants more information.
"The only thing that I've seen is the dash camera when they're basically hunting my son down like a wild animal," she said. "I want justice."
Home security video appears to show Hylton-Brown riding down the street near 7th and Kennedy streets with police in pursuit. Then he returns onto the sidewalk as police continue following him.
Protests began largely peacefully on Tuesday and Wednesday with a vigil where the fatal crash occurred.
People gathered at Kennedy and 7th Streets on Wednesday and then made their way to the Fourth District police station.
A small number of demonstrators threw rocks and bricks at nearby officers and police cars.
We're making it easier for you to find stories that matter with our new newsletter — The 4Front. Sign up here and get news that is important for you to your inbox.
Officers responded with percussion grenades and flash bangs as they tried to move protesters away from the station. Police said there were arrests Wednesday as several businesses were damaged.
On Thursday, Newsham said 14 officers were injured. Eight of those officers were injured by some sort of incendiary device, with one admitted to a hospital.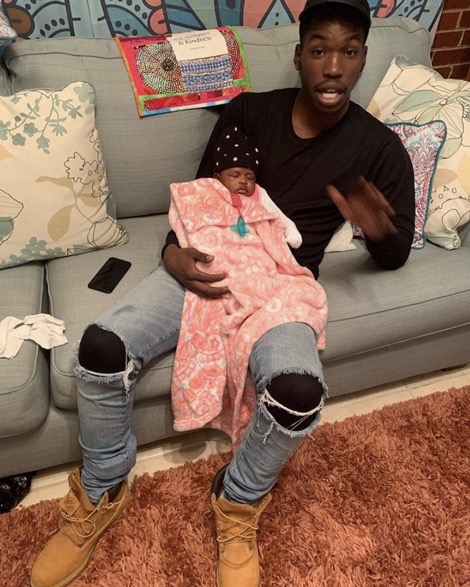 MPD says officers tried to conduct a traffic stop at about 10:10 p.m. Friday after they saw Hylton-Brown riding a Revel electric scooter in the 500 block of Kennedy Street NW without a helmet. They say he was riding on a sidewalk when they tried to pull him over. They say Hylton-Brown went through an alley and "collided" with a car in the 700 block of Kennedy Street.
Officers performed first aid on Hylton-Brown and medics took him to a hospital, where he died Monday.
Hylton-Brown's family and girlfriend say police are responsible for the crash. They want more information and want to see body camera footage.
"He didn't deserve to die like that," said Hylton-Brown's father, Charles Brown. "He did not deserve to die like that out here."