Parents searching for child care centers in Washington, D.C., have limited information about major incidents, inspections and license suspensions compared to parents in other states, according to a News4 I-Team investigation.
The D.C. agency overseeing local child care facilities does not post details of cases in which licenses were revoked or suspended because of misconduct or dangerous incidents, as is customary in other states, including Georgia, New York and Texas.
The D.C. government's child care website lists substantiated complaints against child care providers but does not provide a full report of the incidents or what actions were taken to remedy problems.
A sweeping federal law passed in 2014 required states and the District of Columbia to post websites for consumers by October 2018.
The websites must include tools for parents to search for licensed child care facilities. The sites also must include inspection reports for those facilities and must specify substantiated complaints against child care providers that occur after October 2018.
The D.C. Office of State Superintendent of Education administers the D.C. government child care website. In a statement, the agency said, "OSSE is working on enhancements to the website, which include posting enforcement action taken as a result of a substantiated complaint."
An I-Team review of the site found zero explanations or detailed reports for some recent substantiated complaints against D.C. child care providers. The details of those cases were only made available to the I-Team through a series of Freedom of Information Act requests, which took months to obtain.
At a Southeast D.C. church-based child care center, investigators found staff accidentally left a child behind in a hot car for hours, as they and other children went to a movie. Though the complaint was substantiated and four employees were suspended, details of the incident are not listed on the D.C. government website. The page for the child care center references a substantiated "general health and safety complaint" but does not provide information about the incident.
A 2017 investigation into an in-home child care center near Southern Avenue in D.C. found video evidence staff were pulling and yanking children by the arm and leaving some alone in a classroom. Although the operator was ordered to notify parents and submit a formal corrective action plan, the D.C. government child care site does not provide details of the incident.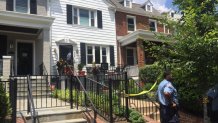 The U.S. Department of Health and Human Services told the I-Team D.C.'s government site is in compliance with the federal rules because the District government began posting inspections of child care centers before the October 2018 deadline.
In their written statement, OSSE said, "OSSE has posted retroactive reports and will continue to do so. However, OSSE will not post any reports from prior to December 2016 as those facilities were operating under different regulations and requirements for licensing. It would be counter to the intent of the federal government to provide clear information to families if a family attempting to make a decision based on requirements the entity was required to meet in years prior."
Parents, community leaders and an advisory neighborhood commissioner said the lack of information about substantiated complaints on the D.C. child care website shortchanges parents of needed information.
"Why aren't we stepping up our game? We are letting employees who are being paid by D.C. tax dollars do the bare minimum," said Denise Krupp, an advisory neighborhood commissioner on Capitol Hill. "You want to know your child is in a safe environment, and without the information, you don't know."
How Maryland and Virginia Compare
The federally required state child care websites in Maryland and Virginia also lack some detailed records and explanations about license suspensions, revocations and other major administrative actions against child care providers.
While Virginia posts summaries of complaints it has documented at licensed child care facilities, the state does not post information about suspensions or sanctions it has levied against those facilities. A spokeswoman for the Virginia Department of Social Services said consumers can make requests to the agency for information.
"Any information or record of a completed administrative sanction can be made available upon request," she said.
The Maryland State Department of Education said it is in the process of adding reports about substantiated child care complaints to its website. The agency said it will also post monitoring inspections, because those inspections are often triggered by incidents and complaints.
In more severe cases, the District and states can revoke licenses of child care providers. But those reports are also not listed on the state websites.
An untrained backup caregiver left several children alone in the backyard of a Northeast D.C. home day care in June 2017, according to the internal OSSE investigation. One of the children, Stokely Andrews, climbed atop an inflatable pool in the daycare facility's backyard. Stokely, days before his second birthday, drowned in the pool. The internal D.C. investigation found a series of safety violations, including a failure to supervise the children.
Details of the incident and the agency's revocation of the daycare operator's license are not listed on the D.C. child care website.
In a statement to the I-Team, OSEE said, "… if a child development facility is no longer licensed to operate, regardless if the license was revoked by OSSE or the facility voluntarily closed, a facility's profile is then removed from the website to ensure families do not attempt to seek care at an unlicensed facility."
Stokely's parents said they worry the site will not warn parents if the same day care operator attempts to reopen a new child care business.
"I always ask myself if other parents will know this happened," Malcolm Andrews said. "Will it be posted somewhere and visible for people to see? Or will it be up to her to tell people who come to visit?"
"States are still in the process of implementing these federal regulations," said Katie Hamm, vice president of Early Childhood Policy for the Center for American Progress. "For a lot of states, they have a lot of catching up to do."
Hamm said the federal government provides a limited amount of money for states and the District to use to regulate child care providers, which limits the capacity of states and D.C. to build robust websites and portals.
Lynette Fraga, who runs a national non-profit promoting better childcare, said even before checking those state websites, parents should reach out to local child care referral agencies, which can educate them on what information is publicly available.
It's also critical that parents tour any child care centers in person to see the conditions and meet the people, Fraga said.
Full statement from the DC Office of State Superintendent of Education:
"OSSE is very proud of the My Child Care DC website and we continue to improve and enhance the functionality of the website, which has been a reliable source of information for thousands of families each month. Since launching the website, OSSE has received positive feedback from families, stakeholders and community members on the comprehensive information the website offers families seeking quality child care in the District of Columbia. The Bowser Administration has made great strides over the past four years in improving access to quality, affordable child care. Launching My Child Care DC, the first consumer website of its kind in the city's history, was an important part of this strategy. We will continue to use My Child Care DC along with our other customer-focused resources, such as our two walk-in centers and the DC Child Care Connections, the District's child care and referral agency, to work toward giving the families of the district all the information they need in choosing the best child development facility for their children."
Reported by Scott MacFarlane and produced by Rick Yarborough.