Labor Day is looming, but there's still plenty of fun to be had during the remaining days of summer. Read on to find some of the D.C. area's most enticing events.
Loudoun Restaurant Week
Now through Aug. 30
29 Loudoun County restaurants invite you to eat all the food — you deserve it. Select menus and special dinners are available all week. Sort participating restaurants by neighborhood and cuisine type here. You can make your reservations on OpenTable.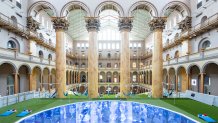 The Lawn at the National Building Museum
Now through Sept. 2
The National Building Museum's latest summer installation will showcase a sloping indoor lawn made from sugarcane and soybean, with lounging areas and a mural of the sky. Hammocks will be suspended from the 100-foot-tall ceiling and will have audio playing from "prominent American storytellers," the museum says. Kids can catch augmented reality fireflies on the lawn, and the museum will also host yoga, meditation and movie events at the space.
Smorgasburg DC
Saturdays all summer; continues into October
Smorgasburg is the world's largest weekly outdoor food market, and this summer it's at Navy Yard. Learn more about the 30+ local food vendors here.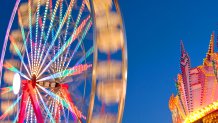 Regional County Fairs
Now through Sept. 23, various dates
Local
Washington, D.C., Maryland and Virginia local news, events and information
Go to a county fair ... and eat everything fried. The goodness goes all the way through summer until the Great Frederick Fair (Sept. 13-21). Get all the dates and details for all upcoming fairs here.
Brew Tours
Weekends
Take a brew tour. D.C. Brew Tours' Original Brew Tour is a great way to sample the area's beer scene. Your ticket includes up to 16 beer styles and VIP access at four stops, as well as a light lunch with a beer pairing.
Free Outdoor Movies
Multiple dates throughout summer & fall
Free outdoor movies have been screening all summer across the D.C. area, including in Georgetown, NoMa, National Harbor and the Mosaic District. Although remaining dates are dwindling, you can still find everything from modern-day faves to classics to family-friendly films. See our roundup here.
Washington Nationals
Ongoing
Take yourself out to the ballgame. Get tickets to a game at Nats Park — you might want to aim for a day that includes a freebie such as a Nats camo tank (Aug. 31), an Anthony Rendon bobblehead (Sept. 13) or a Nats beer stein (Sept. 14). See the complete promotions schedule here.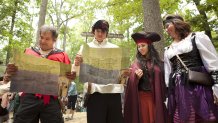 Maryland Renaissance Festival
Weekends now through Oct. 20, plus Labor Day
Go back in time at the Maryland Renaissance Festival to see jousting events, shop arts and crafts vendors and eat a giant turkey leg. Always a giant turkey leg.
National Book Festival
Aug. 31
The Library of Congress is hosting the 19th annual National Book Festival at the Walter E. Washington Convention Center. Justice Ruth Bader Ginsburg, Barbara Kingsolver and Henry Louis Gates Jr. are just a few of the 140 authors, illustrators and poets — including 50 who write for kids and teens — on the lineup for this free event. You can download the festival map here. There's also a festival app available for both iOS and Android to help guide you through author programs, trivia, costumed characters, interactive exhibits and family-friendly activities.
Labor Day Art Show at Glen Echo Park
Aug. 31-Sept. 2
The 49th annual Labor Day Art Show in the Spanish Ballroom in Glen Echo Park in Maryland offers free admission and access to a wide range of art, including sculpture, painting, ceramics, glass, photography, jewelry and even furniture. In addition, a public opening reception will be held Aug. 30 from 7:30 to 9 p.m. with light refreshments.
National Symphony Orchestra: Labor Day Capitol Concert
Sept. 1
The National Symphony Orchestra will perform a free Labor Day weekend concert on the West Lawn of the U.S. Capitol with vocalists Mykal Kilgore and Nova Payton. The program will feature songs by R&B superstars such as Aretha Franklin, Whitney Houston, James Brown, Diana Ross and Stevie Wonder.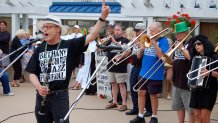 Bethany Beach Jazz Funeral
Sept. 2
Bid farewell to summer. Enjoy the sounds and the last of the summer days Sept. 2 at the Bethany Beach Jazz Funeral on the Bethany Beach Boardwalk in Delaware.
Rosslyn Jazz Festival
Sept. 7
Back for its 30th year, the Rosslyn Jazz Fest is set to return to Gateway Park for a day of free performances. Last year's festival drew over 10,000 people, according to the festival's website. Enjoy live jazz and contemporary music as you sip on a glass of wine in the middle of the park.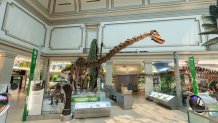 Museum of Natural History Reopens Fossil & Dinosaur Hall
Permanent exhibition reopened earlier this summer
After a renovation process that took five years and $110 million, the Smithsonian's National Museum of Natural History has finally reopened its dinosaur and fossil hall in June. The new exhibit displays 700+ specimens and welcomes visitors to figuratively travel through time — from 3.7 billion years ago at the start of Deep Time, to the future — to examine the impact that the creatures from Deep Time have on life today and that humans have on Earth's climate. Learn more here.
Concerts at the Lincoln Memorial
Multiple dates through Sept. 14
Spend summer weekends jamming out to all sorts of music at the Lincoln Memorial until Sept. 14. Find details on the lineup here.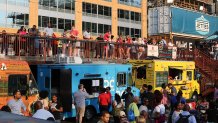 Truckeroo at the Bullpen
Sept. 20
Forage from some of D.C.'s most popular food trucks during Truckeroo at the Bullpen adjacent to Nats Park. You've got just one more chance to catch the recurring food truck fest this year. Find participating trucks here.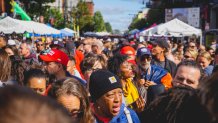 H Street Festival
Sept. 21
Celebrate H Street with food, music, vendors and plenty of neighborhood fun. This year's H Street Festival will take place just before the official start of fall.
Want to nominate something to add? Let us know by tweeting @DCscene.
CORRECTIONS (Aug. 21, 2019, 3:15 p.m.): Information about platinum tent tickets was posted in conjunction with the wrong event. (July 1, 2019, 11:30 a.m.): The Strathmore Comcast Xfinity Outdoor Film Festival won't be held in 2019. (June 28, 2019, 8:43 a.m.): A previous version of this story had an incorrect date for the end of UniverSoul Circus' show at National Harbor.