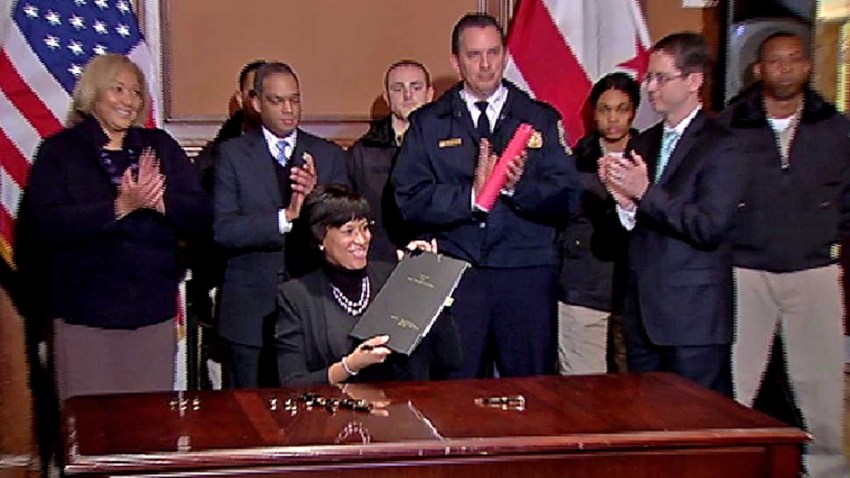 All patrol officers in Washington will be equipped with body cameras by next summer under a bill signed Wednesday by Mayor Muriel Bowser.
The sweeping legislation will outfit about 2,800 Metropolitan Police Department officers with the cameras, which officials hope will boost public confidence in police.
"We know that body-worn cameras make our community safer and stronger," Bowser said. "They increase accountability among all parties involved."
A police class that will hit the streets in May backed the mayor as she spoke.
The D.C. Police Union hopes the cameras will show the real world of law enforcement, with officers performing tough jobs every day, Chairman Sgt. Delroy Burton said.
"I think cameras tell you a part of the story. It's a very good piece of evidence in an investigation, but you still have to do the investigation," he said.
Supporters say the program supports accountability, transparency and safety. The program will grant the public full access to footage through the District's open records law. Some video could be made public within 48 hours.
Initially, Bowser had wanted to keep most of the videos private, but now only footage showing incidents involving domestic violence, sexual assault or stalking will be shielded from the general public.
By signing the bill, Bowser funded the program at a cost of about $5.1 million.
The District tested several types of body cams using about 400 officers as part of a pilot program.
"Hopefully by June we should have just about our entire patrol division equipped with the body cameras," Assistant Police Chief Peter Newsham said. About 700 new cameras are scheduled to arrive in early spring.
Newsham also responded to the union's request for officers to be equipped with stun guns.
"We intend to do that," he said.