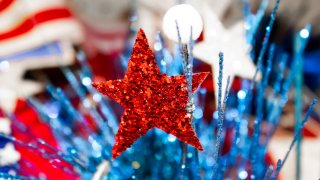 Stay six feet apart, use disposable items and keep your guest list in case it needs to be used later for contact tracing.
D.C. Mayor Muriel Bowser urged city residents to stay home over Fourth of July weekend but gave tips Tuesday on how to host or attend a party more safely as the coronavirus continues to spread.
First, she asked residents to truly consider whether it's wise to host or go to a party.
"One cookout is not worth people getting sick that you care about," the mayor said.
If you do host a party, Bowser said to discourage people from gatherings in groups, have hand sanitizer available, limit the use of shared items such as a hand towel in the bathroom and hold on to your guest list in case it needs to be used for contact tracing if someone is later diagnosed with the virus.
Bowser admitted it can be awkward to ask a host or hostess about their safety measures.
"Who else is going to be there? How many people are going to be there?" she recommended asking.
The White House is moving ahead with a fireworks show over the National Mall on July Fourth. Bowser said last week that she hopes the usual Independence Day crowds won't form on the Mall this year. 
President Trump and first lady Melania Trump will host a lower-key "Salute to America" celebration, despite concerns from some lawmakers about the crowds the event could generate during the pandemic. The president will deliver remarks and a ceremony will include music, military demonstrations and flyovers. The evening will culminate with a "spectacular fireworks display over the National Mall," a statement from the White House said.
Metro will operate extra trains and keep the system open late on July Fourth. Transit officials are expecting fewer visitors to the Mall than last year but warned that social distancing may not be possible within the system at all times. 
City data shows a sustained decrease in community spread, a lowered transmission rate and an increased ability to trace contacts of people diagnosed with the virus. 
Since the start of the pandemic, more than 10,000 residents have tested positive for the virus. At least 551 have died. About three-quarters of D.C. residents who have died of the virus have been Black, though only about 46% of all residents are Black.