D.C. will soon have more coronavirus testing sites, the District is seeing a surge in unemployment applications and property owners should not expect property tax relief.
Mayor Muriel Bowser and city officials had a host of updates Wednesday morning on the coronavirus response. Here are the highlights:
Additional Test Sites: The District is aiming to have a number of testing sites, including drive-thru and drive-up options, "in the coming days," the mayor said. A site for children is already open at Children's National Hospital. Other sites are planned at Sibley Memorial Hospital, United Medical Center, and George Washington University Hospital and GW Medical Faculty Associates . Kaiser Permanente Capitol Hill Medical Center will open a testing center for members.
The Sibley and GW locations are set to open soon. The United Medical Center location is set to open next week.
Bowser said she'll spend $15 million from the District's rainy day fund on supplies for testing sites including ventilators, test kits and protective gear.
Before going to a testing site, you need an order from a doctor. Also, you need to bring photo ID.
Testing Priorities: D.C.'s testing capacities are growing by the day, officials said. People who get priority for testing are hospitalized patients with symptoms, first responders and high-risk groups including people 65 and older, health director LaQuandra Nesbitt said.
Local
Washington, D.C., Maryland and Virginia local news, events and information
"If you have mild symptoms and you are going to remain at your home, we are asking for your patience during that period of time," she said.
The public lab initially processed 15 tests per day. They are now able to process 150 tests per day. By Tuesday, they hope to be able to test 500 per day, Jennifer Smith of the lab said.
Unemployment Benefits: The District has received more than 20,000 claims for unemployment benefits in the past two weeks. That's half of what D.C. usually gets in an entire year.
The unemployment benefits call center is "stretched to its limits," the interim deputy mayor for economic development, John Falcicchio, said. The best way to apply is online, using Internet Explorer on a desktop or laptop.
The mayor was asked if it's acceptable that the site works best on Internet Explorer and not on mobile. She said an update was planned but did not take place before the pandemic hit.
Property Taxes: Property owners should not expect any relief on property taxes, the mayor said.
"It would be detrimental if not catastrophic to the District's cash flow," she said. "We are very closely watching the financial health of our city."
Cases in the Fire and EMS Department: A ninth member of DC Fire and EMS tested positive for coronavirus, Chief Gregory Dean told the department on Wednesday. The member is home on self-quarantine, the chief said.
Emergency Alert to Phones: D.C. residents will receive an emergency alert on their cellphones Wednesday night advising them to stay home. "You have a critical role to play in stopping the spread of COVID-19," a preview of the alert said.
All nonessential businesses in the District must close by 10 p.m. Wednesday. Restaurants already are required to only offer takeout, delivery or carryout service. Gatherings of 10 or more people are prohibited starting at 10 p.m. Wednesday. Go here for more information.
Bowser issued an order Tuesday "to temporarily cease all non-essential business activities, including tour guides and touring services; gyms, health clubs, spas, and massage establishments; theaters, auditoriums, and other places of large gatherings; nightclubs; hair, nail, and tanning salons and barbershops; tattoo parlors; sales not involved in essential services; retail clothing stores; and professional services not devoted to assisting essential business operations."
Grocery stores, restaurants offering takeout, banks, automotive repair, bike shops, veterinarians, hospitals and clinics are among establishments that can stay open.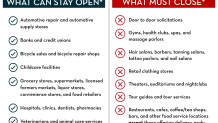 The city has adopted a number of measures to promote social distancing and encourage people to stay in their homes, hoping to slow the spread of coronavirus.
Coronavirus Cases in DC, Maryland and Virginia
COVID-19 cases by population in D.C. and by county in Maryland and Virginia
Source: DC, MD and VA Health Departments
Credit: Anisa Holmes / NBC Washington
Stay with NBC Washington for more details on this developing story.
The DC-Area Coronavirus Outbreak in Pictures