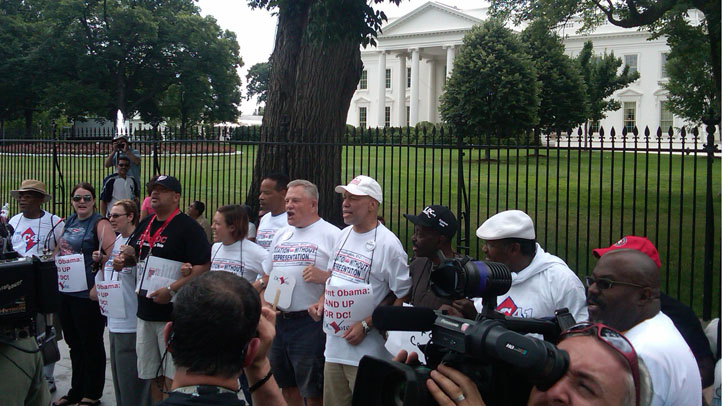 Advocates against federal meddling in D.C.'s local governance gathered in front of the White House on Saturday.

Hundreds of activists, including D.C.'s mayor, Vincent Gray and Delegate Eleanor Holmes Norton rallied in Lafayette Square to, as organizers said, "stand up for D.C."
A dozen even got themselves arrested in the demonstration, although they worked out the logistics ahead of time with law enforcement. The 12 sat down in front of the White House fence, looking out into Lafayette Square, and declined three invitations by Secret Service to move. After the third warning, the officers cuffed the protesters.

Although the city makes decisions for its day to day operations, the annual budget and the passage of city laws are both subject to review by the Congress. In a notable collision between the local and federal agenda, the District's funding of abortion for low-income women was ceded by Democratic lawmakers in a federal budget deal.

Following that moment, which many D.C. lawmakers have viewed as a betrayal, various actors in D.C. politics have demonstrated and gotten themselves arrested while protesting for the city's right of self-governance. Mayor Vincent Gray, floundering amid a hiring scandal, got himself cuffed a few months ago, drawing praise from many city residents.

A recent bill passed in the House that would affect the way local funds are spent on women's reproductive health care has again raised the ire of District-rights partisans. The group D.C. Vote organized this event to send a signal to President Obama of their displeasure.
"It is crucial that President Obama take a firm stance in opposition to this congressional overreach in DC affairs," the group wrote on their site.
Between four hundred and five hundred total gathered in front of the White House lawn for the protest. Buses had been organized to bring seniors and others in from surrounding communities.
Lafayette Square was a busy place for protests on Saturday. Two other demonstrations vied for space: one for clean energy, and another against the use of torture in interrogations.