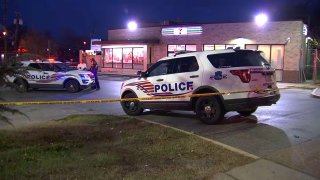 Gunfire struck a D.C. firefighter who was tending to a shooting victim in Southwest Washington Sunday night, police say.
A man was shot about 4:20 p.m. in the parking lot of the 7-Eleven at the corner of MLK Avenue and South Capitol Street SW, police said.
As firefighters and police responded to the shooting, gunfire erupted across the street in the 3800 block of Halley Terrace SE.
Our redesigned local news and weather app is live! Download it for iOS or Android — and sign up for alerts.
A bullet struck a D.C. firefighter EMT who was helping the injured man, police said. A woman standing at the scene was also shot in the hand, according to police.
The firefighter suffered a graze wound to his leg, News4's Darcy Spencer reports. He was later released from the hospital and is in good spirits, fire officials said.
No one else was found injured at the Halley Terrace shooting, police said.
John Donnelly, acting chief for D.C. Fire and EMS, said the team of firefighters who responded were shaken up during the shooting, and the fire truck shielded some of them from getting hurt. Fire officials say a fire truck was riddled with bullet holes.
Both the man and woman who were shot were conscious and breathing and have injuries that are not life-threatening.