A driver was killed and two other people were hurt when a fire truck was involved in a violent crash in Northeast D.C.
The driver, 32-year-old DeAngelo Green, of Northeast D.C., was pulled from the wreckage of the crash in the Brookland neighborhood and pronounced dead at a local hospital, a D.C. police department representative said.
"I don't know how to tell my kid," said Green's wife, T'Anita Coles-Green. "My son is 2 years old. He thinks his father's always going to come through that door, and it's not him."
A firefighter and a pedestrian — a pregnant woman — were hurt and taken to hospitals. The woman was stable but had critical injuries. The firefighter had minor injuries.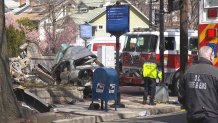 Green's wife said he was driving from his job at So Others Might Eat and was close to where she was working.
"I was notified on my job," Coles-Green said. "I'm a traffic control officer for D.C. government. I was a block away when they came and told me that it was my car that was crashed on 12th and Rhode Island Avenue."
Local
Washington, D.C., Maryland and Virginia local news, events and information
She said she spoke to him about a half-hour before the crash.
[[476421803, C]]
"He was a good father," Coles-Green said. "He worked hard."
The fire truck crashed with Green's gold Honda Accord at 12th Street NE and Rhode Island Avenue about 12:15 p.m. as the firefighters responded to a call on 4th Street NE, a fire department spokesman said.
Green's car collided with a 2004 Ford Focus, which mounted the sidewalk, smashing a sign that said "Welcome to Brookland" and the hitting the pregnant woman, police said.
"It sounded like a bomb blew up. I didn't know what it was," witness Darlene Matthews said. She had been waiting for a bus nearby.
She said the car was pulled over and stopped when it was hit by the fire truck.
"It was like he couldn't control the wheel, and it just pushed the whole car, it just kept going," she said. "I didn't want to look anymore."
"This is a loss that I will never recuperate from," said Dontrell Green, the victim's brother. "Never."
He remembers helping raise his brother as their mother worked long hours at a hospital.
"Homework, feeding him, making sure he was doing what he was supposed to do," Green said. "Walking him to school, picking him up."
Their bond remained strong as adults.
"He helped me at my house, helped me with my kids," Green said. "You know, he's truly going to be missed."
Police are investigating the cause of the crash.
Stay with News4 for more details on this developing story.