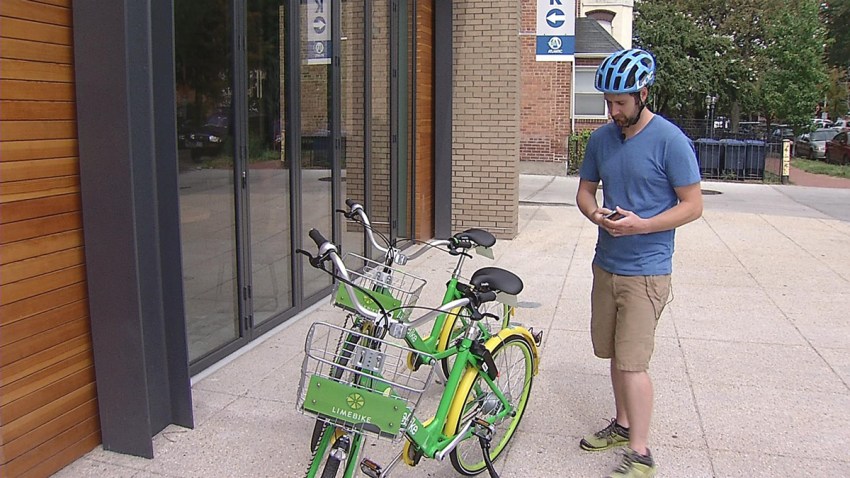 Washington, D.C., has decided to continue its dockless bike and scooter program, but operators participating in the pilot program will have a few more rules to follow.
The program, which launched last September, will be extended through December 2018. But the District is making some changes to the program to help address the continued lack of parking etiquette.
Each dockless vehicle company in the city must add a feature to their bikes that allow them to lock to bike racks or other posts.
Following the launch of the dockless bike program, pictures began popping up on social media showing all the strange places riders were leaving the bikes. There were photos of dockless bikes in the grass, sitting in trees and even lying in the murky waters of Rock Creek Park.
The city says companies will also have to teach their customers how to properly park and secure the bikes and scooters they use.
To help accommodate this new rule, DDOT will install more bike racks in all eight wards.
There are five companies operating dockless bikes and motorized scooters in the District. Jump and Spin operate only bikes. The companies Waybots and Bird have electric scooters. Limebike has both types of vehicles.
Last month, two dockless bike companies decided to leave the city, citing trouble with the city's regulations.
Chinese company Mobike, which had orange-and-silver bikes, told News4 they were leaving the District because the city's rules were too stringent.
Another Chinese company, Ofo, known for its yellow bikes, cited similar trouble.
"D.C. is being very much a unique case of having the wrong regulatory environment for us to hit those basic bike-share physics," said Chris Martin, Mobike's vice president of international expansion.
Under the pilot program, D.C. caps the number of dockless vehicles each company can put in the city at 400. Martin said that wasn't enough to keep bikes near users.
The city plans to make more changes to the program once the pilot phase ends in December, and companies participating in the program will have to formally reapply for permits.