Sam Teicher remembers coral reefs brimming with schools of fish, turtles and dolphins. Now, when he revisits those places, "it's like entering an elephant graveyard," he said.
Since Teicher, 29, was scuba certified in 2003, he has watched as reefs have deteriorated to skeletons of what they once were. But he knows the problem exceeds even what he has witnessed. In the Florida Keys — where 95% of the coral is now dead — he remembers a veteran diver who wept into his mask after seeing the devastation.
"It's happening right before our eyes, and it's only getting worse," he said.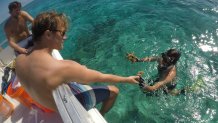 That's why the D.C. native, along with fellow Yale alumnus Gator Halpern, founded Coral Vita. Teicher said that the sentence, "I started a coral reef restoration company," shouldn't have ever come out of his mouth. But something had to be done.
"We felt that the way things are moving right now is not good enough," Teicher said.
Like with Coral Vita, a common theme among D.C.'s environmentally conscious entrepreneurs is necessity. When a problem hits home, they come up with business ideas that are not only environmentally sustainable, but often times profitable.
Local
Washington, D.C., Maryland and Virginia local news, events and information
On Earth Day, here's a look at a few up-and-comers who are trying to make the world a little greener.
VETERAN COMPOST
In December 2008, Justen Garrity was awarded a bronze star in Mosul, Iraq. A few months later he was home and unemployed in a lousy job market, collecting unemployment benefits to get by.
He looked for a job doing anything, he said. He applied for roles ranging from manager to security guard, but despite his college education and record of service, he couldn't get a call back even for part-time work.
Garrity knew he liked sustainability, and when he started researching recycling, he found a lot of food waste out there. He figured composting was either an unseen opportunity in the Washington metro area or a huge mistake. Either way, he decided to take the leap.
When Garrity started Veteran Compost in 2010, it was a one-man show. Now, he has around 20 employees on his payroll and is hiring a new person every few weeks — many of them veterans and their family members. He has two facilities in operation and a third under construction, and his company now serves Maryland, D.C., and northern Virginia.
Garrity's business model is two-pronged. Every day, workers go out in trucks to collect waste for a disposal fee from establishments as large as hospitals or stadiums and as small as a single household. Then, that material is processed into compost and delivered to customers.
Veteran Compost processes anywhere from 15-30 tons of food waste per day, six days a week, Garrity said. He's already on track to temporarily sell out of compost in May, with prospective customers on a waitlist. Every year he tries to make more compost, and every spring he sells out.
"There's just a lot of demand for good soil," Garrity said.
TRANSITSCREEN
[[508887631, C]]

When Matt Caywood was in school, there were only a few buses he could take late at night to get home from campus. He was frustrated because he could never figure out their availability, and so he pieced together a makeshift "transit screen."
At least that's how his partner Ryan Croft tells it. As the COO and co-founder of D.C.-based TransitScreen, Croft has helped create a company that provides "real-time mobility, curated for your location" on "any screen, anywhere," according to its website.
On screens in building lobbies or at Fortune 500 offices, TransitScreen gives real-time transportation options to onlookers. Everything from buses to trains to bikes to rideshares appear on the list, with estimated arrival times based on thousands of data sources per day.
"We're trying to give people this information quickly at a glance," Croft said.
At TransitScreen, all of the employees take mass transit, walk or bike to work, Croft said. That environmentally conscious approach is one of the company's core tenets and is meant to give people "alternatives to driving."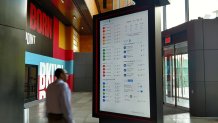 The technology is all about making informed decisions. Maybe a commuter wanted to take a bike but it's bad weather, or maybe rideshare apps such as Uber or Lyft are surging; TransitScreen can then provide alternatives that will still get travelers to their destination. By showing departure times, it's also a way to avoid narrowly missing a train or bus and having to wait 20 minutes for the next one.
"We're in the business of giving people choice," Croft said.
CORAL VITA
Growing up in D.C.'s Tenleytown, Teicher would roll over logs and look at bugs for hours or go fishing on the Potomac. He always loved nature, but it wasn't until he got scuba certified at 13 that he fell for the ocean.
Fast forward a decade and a half, and Teicher's company is set to open the first commercial land-based coral farm for restoration on May 31 in Grand Bahama. "This is a world first. It's a huge innovation," he said.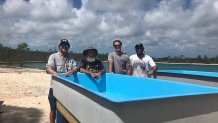 Looking out at seven shades of blue on the Bahamian island, Teicher recalled how the debut's been a long time coming. He and Halpern officially launched Coral Vita in August 2015 and in fall 2016 were part of the Halcyon Incubator in D.C. In March 2018, he moved to the Bahamas. Finally, next month will mark the first time his company actually grows corals.
Through developments pioneered by scientists who have advised Coral Vita, Teicher and Halpern are able to grow coral that would usually take decades to mature in only six to 18 months. They can also control conditions in the tanks to mimic future projections for climate threats, making coral cheaper, faster, better and stronger, Teicher said.
For now, Coral Vita is launching one farm that's set to grow about 10,000 corals per year and serve as an education and visitation center. But the goal is to be growing millions of corals every year, restoring reefs as far flung as the Maldives.
Teicher's journey all started in D.C., where he says he was raised on the principle of giving back when he could. Now, he has a message for the people of Washington.
"D.C. is a very important and powerful place, and right now especially, it has a responsibility and a role to solve climate change," Teicher said. "Climate change is a clear and present danger. It's happening. And humans are causing it."