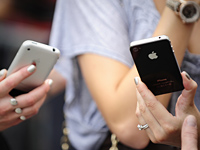 Two men made appointments to sell iPhones on Craigslist, and then robbed the prospective buyers instead, Fairfax police said.

Deshawn Derr, 25, and David Ramsay, 39, have both been charged with robbery and use of a firearm in a felony.

According to authorities, the pair lured a victims with the fictitious sale of iPhones.

In one case, the two put up a post advertising "Jailbroken iPhones for Sale." The would-be buyer arranged to meet the men at 11 p.m. on Friday, June 17, in a parking on Little River Turnpike in Annandale. When the buyer showed up, police said Derr and Ramsay pulled a gun and took his cash. However, as they drove away in a blue BMW model 7, the victim was able to catch the North Carolina plates.

Police say there may have been as many as a dozen similar crimes around Fairfax area. They are asking anyone with more information on the two to call the hotline 1-866-411-TIPS.

Police also advise the public that if you are going to make purchases off of Craigslist, arrange to meet when it is light out, and bring a friend along.